Driver who caused young student's death is given community sentence
A family who battled the Crown Prosecution Service to get justice for their undergraduate daughter today (Friday) saw the driver who caused her death given a community sentence.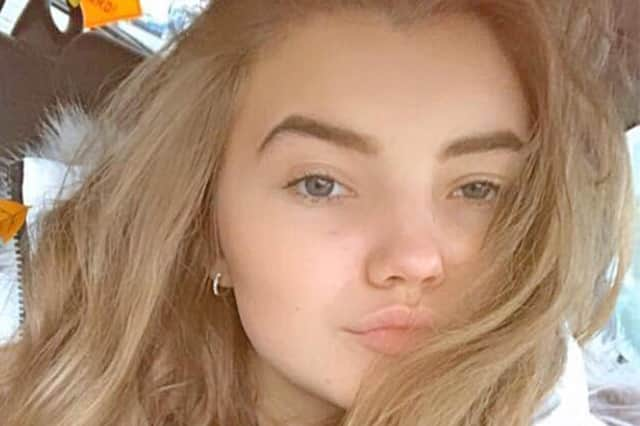 Hope Starsmore, 20, was making only her second trip to Nottingham Trent University where she had just started a course in medical science when learning assistant Rebecca Porter, 34, drove straight into her path.
The university student's parents were forced to take the rare step of challenging a CPS decision to drop the case after prosecutors said they intended to offer no evidence against Porter in December last year.
Hope's parents, Peter, 46, and Helen Starsmore, 47, demanded a review by CPS lawyers and indicated they were willing to seek a costly Judicial Review or private prosecution.
Porter, who was said in court to have swerved onto the wrong side of the road after recovering from a dizzy spell at the wheel, finally stood trial in April this year after the Crown Prosecution Service reversed their decision to drop the case.
And after waiting nearly three years for justice, Hope's family saw the jury convict Porter of causing her death by careless driving after she was cleared of causing death by dangerous driving.
The jury at Lincoln Crown Court heard Porter hit the Toyota Yaris being driven by Hope after swerving violently onto the wrong side of the A158 near Burgh-le-Marsh.
Hope, from nearby Skegness, was airlifted to hospital in Hull but died from her injuries eight days after the collision on October 7, 2020. Her partner Ady Spencer, and brother Hayden, were also injured in the collision.
Victim impact statements were read out in court from both of Hope's parents.
Hope's mother, Helen Starsmore, said Hope was determined to get on in her life and pursue her dream of going to university and being a paramedic. She described Hope as "kind and beautiful."
At hospital Mrs Starsmore said Hope continued to fight against her broken body. "Eight days baby girl, you sure did fight," she said.
"Our family has been ripped apart," she added. "I just want Hope back."
"I don't think I will ever recover. Losing a child is the worst thing ever."
The court heard Mrs Starsmore had also recently found Hope's personal statement for university which noted how she had been inspired by her own mother and set her goals as passing exams and working in laboratories.
In his statement, Hope's father Peter Starsmore, described his daughter as his "little princess", who was never any trouble.
Mr Starsmore said he would never forget having to tell his other children that Hope had lost her battle.
"My little princess was gone, she still looked beautiful," Mr Starsmore added.
One of Hope's sisters, Leah Starsmore, described how Hope was the first person in her family to make it to university and was determined to pursue a career as a paramedic and settle down with her boyfriend, Ady.
She said Hope was also an inspirational aunty, adding: "All that remains now is grief, a lifetime of grief."
Hope's elder sister, Beth Starsmore, described her joy when Hope passed her driving test as she wanted to explore the world.
And Ady's mother, Karen Spencer, said her son had been left "a shell", and would now never marry Hope.
Hayden Starsmore, who described Hope as his best friend, said he saw Hope in the car after the crash and told her not to move as he drifted in and out of consciousness himself.
"I didn't know at this time this was going to be my last interaction with my sister."
In his statement Ady Spencer described the final moments of the collision and said he still avoided sleep because of his night terrors.
"The image of the car coming round plagues my dreams," Mr Spencer said.
Mr Spencer said Hope was his angelic first girlfriend and described how every bone in her body now seemed broken and her breathing was poor.
He described how he then helped the paramedics and watched as Hope was cut out the car.
The jury heard Porter was driving a Ford Focus to her teaching assistant job in Skegness when she swerved onto the wrong side of the road to avoid a van which was indicating to turn right.The van driver described to the court seeing Porter's head down and then suddenly raising up with a look of shock on her face.
At the scene, Porter, who had just dropped off her one-year-old son at nursery, complained of suffering a dizzy spell shortly before the collision and asked about the other driver.
In her evidence Porter, of Cottesmore Close, Skegness, admitted to having a previous crash in May 2012 when she ended up in a ditch after blacking out at the wheel as she drove home from university in Lincoln, and suffering "two or three" dizzy spells in August 2020.
Louis Mably KC said Porter was left in a position where she either steered to left, braked heavily and possibly collided with the back of the van or swerved violently into the oncoming carriageway and into Hope's path.
Both cars were sent spinning in opposite directions by the force of the collision.
The jury heard Hope was travelling with her boyfriend, Ady, in the front passenger seat, and her brother, Hayden, in the back.
Mr Mably said Ady remembered seeing the van and then heard Hope say the words "What the?"
In her evidence Porter told the jury: "It was such an every day drive to work."
"I'd driven past the garden centre then I started to feel a sudden spinning, a sudden dizziness," she added.
"The next thing I know there is a car really close to me."
The court heard Porter had no previous convictions or endorsements on her driving licence, had suffered from a number of medical conditions and was the mother of a young child.
Andrew Vout KC, mitigating, argued Porter's moment of inattention did not merit a prison sentence and told the court she was no longer driving.
Mr Vout said: "No one who saw Rebecca Porter give evidence in this trial could conclude anything other than that she is distraught at Hope's death and her role in it.
"She is sorry. I asked her this morning what she wanted me to say and she simply said 'that I am sorry.' "
Mr Vout accepted Porter made a wrong decision but said the collision was the result of her first manoeuvre after coming round.
"After regaining conciousness in a moment of crisis, this was momentary inattention," Mr Vout argued.
"Her little boy is the centre of Mrs Porter's life," Mr Vout added.
Mr Vout said Mrs Porter had also been impacted by the difficult progression of the case through the courts.
Passing sentence Deputy circuit Judge Nigel Godsmark KC told Porter: "Just over two and half years ago your careless driving caused the death of Hope Starsmore."
Judge Godsmark said had Porter been convicted of causing death by dangerous driving then a prison sentence would have been inevitable.
But the Judge said the jury had found this was a bad manouvre after Porter found herself coming round and placed her driving in the lowest category of momentary inattention.
"No one was telling you not to drive," Judge Godsmark said.
Judge Godsmark said he appreciated some would find this difficult.
"The greater torture lays with Hope Starsmore's family and friends," Judge Godsmark added.
"But as I told the jury in summing up this case there are no bad people in this case."
Porter was sentenced to a 12 month community order, ordered to carry out 200 hours of community punishment and banned from driving for seven years. She must also take an extended retest.
In an emotional statement which was released after the sentencing, Hope Starsmore's family said they felt let down by both the police and CPS, and had now started a campaign to help other families.
It read: "We as a family are happy that justice has been served. It has been a long fight to achieve this. A fight that left us mentally, physically and emotionally drained.
"Last year the CPS decided to drop the case and offer no evidence. We decided to fight this as we believed there was sufficient, credible evidence. At many stages it felt that most people involved with the handling of this case turned their backs on us. Lack of communication, delays and what we feel to be unprofessional behaviour has plagued us.
"Two years and eight months after the accident the prosecution comes to a close. We feel that this is an outrageous amount of time that we have been unnecessarily been put through. Worrying, stressing and unsure of which way to turn."
They said they felt "let down" by the those with the job of protecting and making them feel secure.
"We must sit back and commend ourselves on our courage, grit and determination. We never gave up our fight. Not even when we were being told to stay silent and essentially do nothing. We wanted our voice heard. We wanted to be Hope's voice.
"Justice has finally been served. Hope had her young life stolen way too soon. Dreams followed Hope in her coffin. Far too often do these offences get dropped without warning. The conduct of people surrounding us, is simply unforgivable. More than once we have found out about vital case information through media channels, this too is unacceptable for a broken, grieving family, struggling to come to terms with the tragic loss of our daughter, sister, auntie, partner and friend.
"As far as we are concerned, a law had been broken. Mrs Porter had to be held responsible for her actions and careless driving. Thankfully, after a long time of being told we do not have any evidence, the jury found her guilty of death by careless driving. Using the very same evidence that had been present from the beginning.
"Not only did she cause the death of Hope, she destroyed Ady and Hayden's lives. They have been left battling various serious injuries, including traumatic brain injuries, changing the quality of life for the forseeable future. They will continue with their extensive rehabilitation well into the new year. This has been difficult for them to see any light at the end of the tunnel at all."
The family are campaigning to help other families to fight and have options if they find themselves in the same situation.
They said: "Hope's name will live on, you will never be forgotten baby girl. We are still hurting, we are still broken, we are still feeling let down. As far as we are concerned, the fight continues.
"As this draws to a close there are people that have gone above and beyond for us. Thank you to everyone who stuck by us, we will be forever grateful."
A spokesperson from the Crown Prosecution Service said: "The CPS has a duty to keep all cases under continuous review. In this case following our initial concerns that the CPS Code Test was not met a further review took place, in line with our CPS policies. This later review conducted by the Chief Crown Prosecutor determined that our legal test for prosecution could be met in that there was a realistic prospect of conviction and the public interest to prosecute was met. We have since progressed the matter to trial and note the Jury's verdict and today's sentence.
''Our thoughts remain with Hope Starsmore's family for their tragic loss."