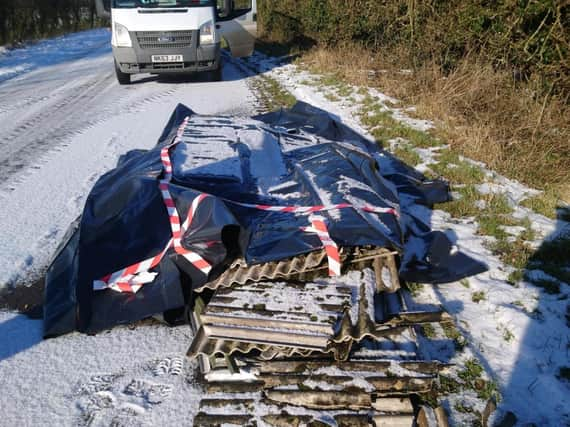 The pile of asbestos material was also left in a dangerous position for drivers as it was on the road at Wash Road between Kirton and Fosdyke.
It was reported last week, but because of the hazardous nature of the substance, Boston Borough Council had to get their specialist contractor in to clear it up.
The councillor responsible for dealing with fly-tipping said the incident demonstrated a complete lack of any consideration, and urged anyone with information about those responsible to come forward.
Cllr Yvonne Stevens, Portfolio Holder for Waste at Boston Council, said: "Fly-tipping is a very serious crime and can cause harm to both people and the environment, in this case it was even worse when fly-tippers dumped a pile of asbestos on the highway near a sharp bend.
"This demonstrates a complete lack of consideration and could have easily caused a really bad accident resulting in harm to human life.
"Council staff and our licensed waste contractors did a great job making sure the material was properly handled, tested and safely removed after it was reported so this fly-tip didn't cause any harm to anyone in this instance."
Coun Stevens said she wanted to appeal to anyone who might have information that would help them trace those responsible.
She said: "I would like to appeal to the public to come forward if they feel they have any information on where this may have come from. Are there any houses or buildings near you that have been refurbished lately or any sheds you have noticed being taken down that might have contained asbestos?
"If you recognise the pile of asbestos in the photo please contact the council. We want to find out who did this and make sure they are prosecuted for their actions."
Any information on this or other fly-tipping issues can be emailed to the council at [email protected] or they can be contacted by phone on 01205 314200.