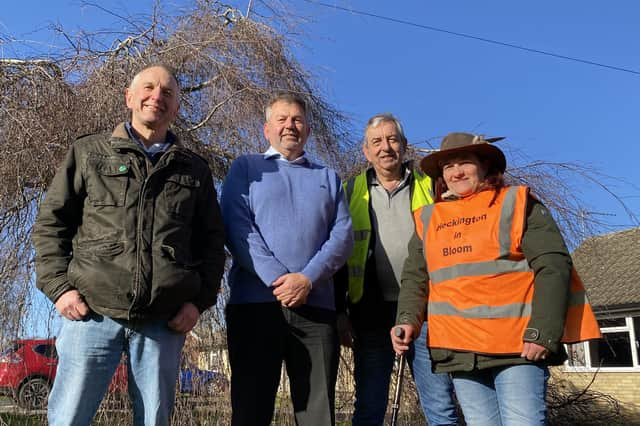 Together, North Kesteven District Council and groups Heckington in Bloom and Trees for Heckington will transform a number of the council's green spaces in the village which are currently mown and offer limited benefits for nature.
Following consultation with residents around these green spaces, a variety of measures will be implemented to encourage improvements in biodiversity.
Such measures may include letting grass grow longer, planting wildflowers and trees, and providing other habitats for wildlife.
Green spaces in Osborn Way, Willow Close and Alexander Way will see new management, while the communal lounge in Willow Close will have large new planters to complement the existing trees and planting.
In all aspects, the council says safety and the views of the community will be considered, while prioritising the benefits that a wilder environment can offer.
If this project proves successful it is possible that other partnerships could be developed within North Kesteven communities to create sustainable biodiversity projects across the district.
On visiting the sites, Council Leader Coun Richard Wright said: "It's great to be working with Heckington in Bloom and Trees for Heckington to bring this project to fruition. With our seed-funding and their ongoing voluntary
efforts, we'll soon be seeing a brighter and more diverse environment in Heckington.
"For a long time these patches of land have just been left to grass, but we have the opportunity now to do more, especially as increasing biodiversity is vital for our fight against climate change and helping the district to reach net zero by 2030.
"More trees and plants help to capture carbon from the environment and improve air quality. One of the impacts of climate change is also the loss of species, so by providing wilder spaces we're helping to protect wildlife.
"The council's strategies around nature and climate change are not just words on paper; they're active plans that we all need to take part in and support. This type of project goes to prove that by working together we can bring these plans to life."
Heckington in Bloom was set up by Dawn Bell in 2022, following on from Heckington Best Kept Blooming Village group, also run by Dawn since 2017.
The group has 70 volunteers and already takes care of a variety of green areas in the village, including seasonal displays enjoyed by all, plus extensive litter picking.
Dawn said: "We're really happy to be working with the council and Trees for Heckington, and we've identified these areas where we can make a positive impact and help make the village a nicer place for residents to live in.
"We want there to be a nicer outlook for people who live here, planting spring bulbs and creating an area with lovely flowers for people passing by to enjoy. It'll be great for people to see us all working together."
The Trees for Heckington group was set up by Tim Grigg in 2019 with the long-term aim of finding a site to plant a new community woodland. In the meantime, the group looks for any opportunity to plant new trees and has already planted more than 20 trees in the village.
Tim said: "We're looking to improve the environment in the village, making it better for residents but also doing our bit for nature. We just want to make it an even more pleasant place to live!
"I'm really excited to be creating an area of wildflowers on Willow Close, an area that's currently just bland grass. It should not only look fantastic, but also be enjoyed by birds, bees and butterflies. We're keen to add more trees too."
General maintenance and improvements to Alexander Way will be the first work to be undertaken, followed by improvements to the area in front of Willow Close's communal lounge. Finally, development and planting will take place on larger areas of land at Willow Close and Osborn Way.
Anyone who is interested in the local work on climate change and the environment can sign up for the council's Climate Action newsletter at www.n-kesteven.gov.uk/stayconnected/ or follow the council's social channels at