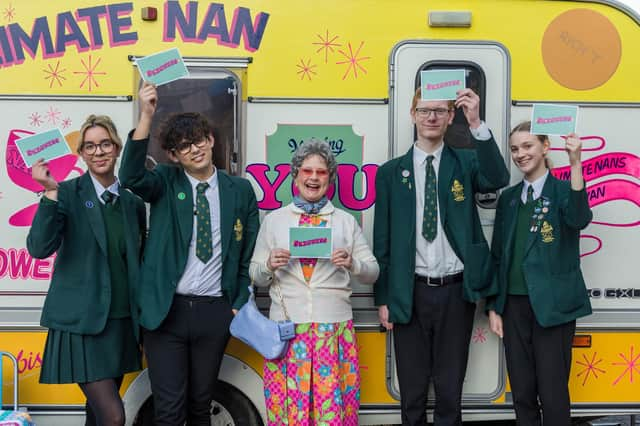 In a very British way of tackling a crisis, 'We Are Here' supporters rocked up to the resort in a caravan to talk to residents.
Setting up outside the Hildreds Shopping Centre, visitors were welcomed by Climate Nan.
The tour began at the beginning March and has been visiting regions in England most likely to be impacted by the effects of climate change in the very near future. It ends today (Wednedsay) in Westminster with a giant tannoy speaker playing stories and demands from communities around England.
Its aim is to put pressure on the Government to make important adaptations to the Levelling Up and Regeneration Bill, ensuring that climate change is considered within all planning decisions.
'Climate Nan' was joined by a member of the We Are Here campaign n the caravan, which was kitted out using all second-hand or homemade furniture where possible.
It featured a series of newspaper cut-outs across the wall which document climate related planning issues, as well as a flood map, showing exactly which regions are at immediate risk to flooding, which residents pinned their home too.
Attendees were invited to record audio interviews, talking about planning and climate in their local area. They were also invited to write a message on specially designed postcards to be shared with MPs.
Local residents who visited the caravan shared their concerns about a range of environmental and planning issues.
 Jacob (17) said "I'm worried about rising sea levels and coastal erosion, but I'm hopefully that if the correct policies are used it can be prevented".
 Rhianna (17) commented "I'm worried about the risks that flooding poses to my hometown, as I don't want my hometown to be underwater when I have grandchildren".
 Gary (63) said "Please will the Government be serious at tackling climate change. Action is required now. Legislation is required to ensure environmentally sound homes are built".
Audio collected has been edited together to be blasted from a giant tannoy on the roof of the caravan whilst being driven around Westminster. The audio will also be uploaded onto Spotify/Soundcloud/Facebook etc. Handwritten postcards will be shared with MPs.