Comments wanted on plans for solar energy park in North Kesteven
The first stage of public consultation has been launched for a new solar farm and energy storage park in North Kesteven which is anticipated to provide clean electricity for approximately 110,000 households.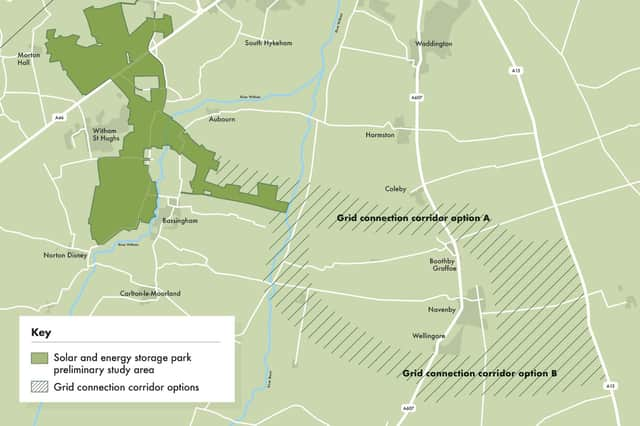 The project is being brought forward by Fosse Green Energy, a joint venture by Windel Energy and Recurrent Energy and a first round of public consultation opened on Monday (September 11) and will run until October 20.
The solar and energy storage park is anticipated to have a generating capacity of around 350 megawatts (MW) peak direct current (dc) and could provide enough clean energy to power in the region of 110,000 homes.
The project is proposed to be located on land 5.6 miles south-west of Lincoln in North Kesteven and is located near Aubourn, Bassingham, Thorpe on the Hill and Norton Disney, to the north and south of the A46, commonly known as Fosse Way.
It will be made up of solar photovoltaic (PV) panels and battery energy storage areas.
A spokesman for the project said: "We are currently considering two options for the grid connection corridor, one of which will be selected as part of a Development Consent Order (DCO) application which will be submitted to the Planning Inspectorate for examination."
The solar park will be connected by underground cable running to the south of Wellingore or the north of Boothby Graffoe to the grid via a substation, for which National Grid is in the process of exploring locations.
Gary Toomey, Managing Director at Windel Energy said: "We are committed to involving the local community and in consulting widely on our plans in a responsible way. We've already considered and listened to feedback received earlier this year and have decided to not use overhead lines and pylons for the connection into the national grid.
"The feedback we receive at this stage of public consultation is very important and will help to further influence design of the project, with it used to better understand aspects which should be prioritised as Fosse Green Energy is developed. We are particularly looking for suggestions of community schemes or projects that we could be a part of and on our plans to deliver biodiversity net gain."
You can provide feedback to this consultation by: email: info@fossegreenenergy.co.uk or Freepost: FREEPOST FOSSE GREEN ENERGY
They will also be running live and online information events.
They added: "We are at an early stage and this won't be the only time to provide your feedback. Two stages of consultation are planned, with a second stage of consultation planned for early 2024. We would really like your feedback on our plans, as this will help us shape the project and prioritise any changes that we make to our proposals."
Events are being held where people can meet the project team and find out more:
- Witham St Hughs Village Hall: Saturday September 30, 10am to 2pm
- Oliver Roper Parish Meeting Room: Wednesday October 4, 3pm to 7pm
- The Venue at Navenby: Thursday October 5, 3pm to 7pm
- Hammond Sports Centre Main Hall: Saturday October 7, 10am to 2pm
- An online event (register online): Wednesday October 11, 6pm to 7pm
A project website has further details and can be found at www.fossegreenenergy.co.uk. People can register their details on the website to ensure they are updated at key project milestones.
The project community relations team can also be contacted directly via email address [email protected] or by calling the project phoneline (Mon- Fri, 9am-5pm) at 0800 8606262.