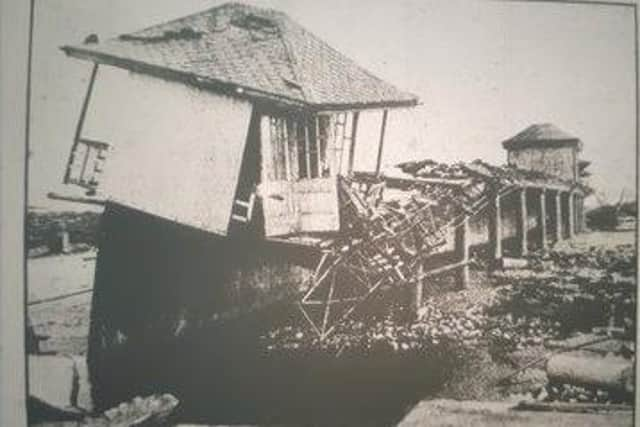 Forty-three people lost their lives as the water surged as far as two miles inland on January 31, 1953.
To remember them, a special memorial service is taking place at St Peter and St Paul Church in Ingoldmells tomorrow (Tuesday).
The service will be led by Rev. Richard Holden and precedes the opening of an exhibition at the North Sea Observatory in nearby Chapel St Leonards.
The Rev Holden said: "The flood service at St.Peter and St Pauls is a memorial to the 16 people who died in Ingoldmells on the 31st of January 1953. After the war a lot of prefab bungalows were erected along the coast and these were not as strong as a brick or stone building and so collapsed when the water surged over the coast.
"The service is also about making sure that our current sea defences are adequate because we remember what the sea can do."
Coun Gerrard Dalton, chairman of Chapel St Leonards Parish Council, said it was important to never forget the floods and the power of the sea.
"All of hearts go out to the families who lost loved ones during the 1953 floods," he said.
"The 70th anniversary is a reminder of how nature can be terrible.
"It also emphasises that we have to keep on top of maintaining the flood defences to prevent this happening in the future."
Lincolnshire has battled with floods throughout history; a challenge that continues today as local authorities and the Environment Agency take steps to better protect our communities along the coast.
The exhibition at North Sea Observatory will be officially opened by the Lord Lieutenant of Lincolnshire Mr Toby Dennis and features photographs, newspaper reports and other articles from the 1953 floods.
Local children's schoolwork from the time are to go on display.
The exhibition is free to visit and will be on display until the end of February..
The North Sea Observatory can be found at Chapel Point (PE24 5XA) and is open every day from 10am to 4pm.
A memorial day also took place in Sutton-on-Sea on Saturday with an exhibition opening at Meridale Youth Centre.
See Wednesday's Skegness and Boston Standard newspapers and the Louth Leader for more on the anniversary.