Council calls on Secretary of State 'to be mindful' of local situation when deciding on solar park
North Kesteven District Council's Planning Committee has called on the Secretary of State for Energy Security and Net Zero to be mindful of local conditions and circumstances when deciding whether a large solar farm should be allowed at Heckington Fen.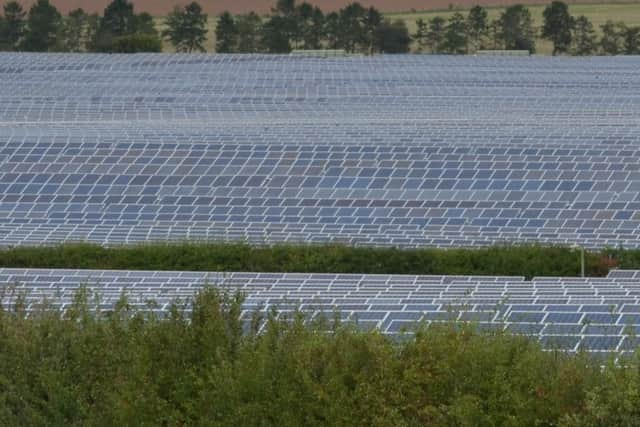 Although not entitled to determine Ecotricity (Heck Fen Solar) Ltd's plan to install an energy park capable of powering 100,000 homes on 524 hectares of land, because it is classified as a Nationally Significant Infrastructure Project, the council does have a role in giving details of the likely impact of the proposed development through a Local Impact Report and in making specific written representation.
There will be a presentation at Heckington Village Hall tonight (Wednesday, September 13) at 7pm on Roman pottery, salt working and animal bones found during surveys of the solar park site and news on the next steps of the plan, including the amendments by Ecotricity made after public consultation, such as an extended permissive path around the site and a community orchard.
The planning inspectorate will be hearing from interested parties in a preliminary hearing at Boston United Conference Centre on September 19 and 20 before deciding on whether recommend to give the go ahead for the scheme.
In considering the council's response, the Planning Committee supported the principle of the development, given its suitability under Central Lincolnshire Local Plan policies directing renewable energy and wider energy infrastructure in particular, but wanted to raise concerns in relation to:
Impacts on 'best and most versatile' (BMV) agricultural land and consideration of the cumulative impact of proposed NSIPs on such land;
Landscape and visual impact;
Cultural heritage impacts (above ground and archaeology);
Consideration of the specific type of technology used for battery storage; and
Ecology, ornithology and biodiversity net gain impacts.
This feedback will be sent to the Planning Inspectorate acting as the 'examining authority' which will then make a recommendation to the Secretary of State for Energy Security and Net Zero Claire Coutinho MP, who will ultimately take the decision whether or not to grant a Development Consent Order.
The council has stated that, while supporting the principle of the development, not unexpectedly for a project of this scale and nature, there are potentially negative impacts identified relating to noise and vibration, glint and glare, residential visual amenity, hydrology and flood risk, socio economics, etc; and neutral or positive impacts identified for climate change, transport, air quality and other, miscellaneous, aspects – the 'climate change' impact being wholly positive.
Planning Committee members accepted that this creates a degree of tension, of varying degrees across planning policies, but ultimately felt that the delivery of renewable energy of this nature and scale was in accordance with the strategic policies of the Central Lincolnshire Local Plan and the overarching vision and strategy to address the challenges relating to climate change to ensure that the district and Central Lincolnshire are fit for a zero-carbon future; contributes to the transition to a net-zero carbon society; and is responsive to a changing climate.
Council Leader, Coun Richard Wright, said: "There can be no denying that large scale schemes such as this are alien to an agricultural rural landscape such as Heckington Fen as we have come to know it, but if we want to keep the lights on and to live in the manner we are accustomed to, we also need to consider how we contribute to the generation of that electricity, locally, in a more climate-conscious way.
"We acknowledge the various negative side effects that this proposal presents. That is the nature of change and advancement. But so too, we need to acknowledge our need as a district, a county and a country to be achieving carbon net zero as swiftly as we can. In addition to the District Council's strategic direction, the Central Lincolnshire Local Plan provides parameters to achieve just that and for balancing those pressures.
"If successful, this scheme will power twice the number of homes within North Kesteven currently and prevent 75,000 tonnes of CO2 entering the atmosphere annually. The committee weighed that balance and felt that the wider effects of this specific development proposal did not cause the level of harm to warrant objection, even though we recognised the amount of good quality agricultural land that would temporarily be taken out of production."
The Heckington Fen Solar Park is one of four solar energy NSIPs currently within the National Infrastructure Planning process, being proposed within North Kesteven District. The other three projects, Springwell Solar Farm – near Ashby de la Launde, Beacon Fen Energy Park – north of Heckington and Fosse Green Energy Park – near Wellingore and Aubourn, are all in various stages of 'pre-application' status. Four more are proposed in the neighbouring West Lindsey and two in South Kesteven/Rutland, most of which are also in examination or pre-examination stages.
Spring 2024 is expected to see a recommendation issued to the Secretary of State by the planning inspector. Once a recommendation has been made, the Secretary of State will make a decision on the application.
Ecotricity have said they received generally positive feedback to their public consultations.
Founder of Ecotricity Dale Vince previously told the Local Democracy Reporting Service: "The proposed solar park at Heckington Fen is an exciting opportunity to fight the climate emergency – it's relatively quick to install solar power and quick to decommission in the future.
"By combining with energy storage on site, we can save the energy we generate and use it when the grid really needs additional power."