Fears onshore wind turbines could spoil Lincolnshire countryside
Lincolnshire Council's environment chief fears government plans to relax planning rules for onshore wind farms will spoil the county's landscape and fail to create affordable energy.
Watch more of our videos on Shots! 
and live on Freeview channel 276
Visit Shots! now
The UK Government has announced plans to streamline planning rules for onshore wind projects – as long as they are supported by local communities – as part of the Energy Bill, aimed at providing a cleaner, more affordable, and more secure energy system for the UK.
However, the change will be met with resistance in Lincolnshire.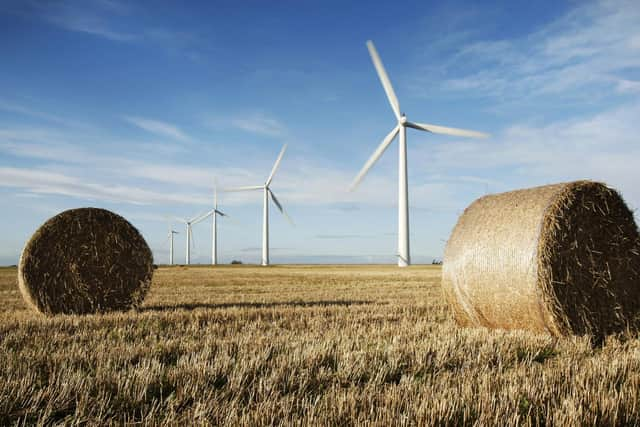 "If I was a Conservative MP, I would not be voting for this document, because it doesn't actually achieve what we should be having a discussion about, which is about how do we get energy to be affordable for people, for communities and for businesses going forward?
"What's our long-term plan? We keep saying Net Zero is our long-term plan, but that doesn't deliver affordable energy.
"In Lincolnshire, we've obviously campaigned to protect our rural landscapes from industrialisation. We have a clear view land should be used for growing food. That's why we had an onshore wind farm position statement.
"I don't think anything has changed. At the end of the day, we are big supporters of the offshore wind sector and it is playing a significant role in meeting our change to a green energy solution. I don't see any need for it to come onshore, particularly as it's an intermittent generator – even more intermittent than offshore wind."
He said it was important to protect Lincolnshire's natural beauty and warned against major projects like solar farms which take up acres of it.
"It is about ensuring we hand over to the next generation a natural environment we have protected and enhanced," he said.
"One little set of turbines in a community isn't going to change anything other than harm that ambition."
"If we end up with Lincolnshire's landscape filled with industrial structures, what kind of environment is that for future generations?"
However, environmental group Extinction Rebellion Lincolnshire, disagreed with Coun Davie.
An XR spokeswoman said: "XR agrees with Greenpeace's chief scientist, Dr Doug Parr, who in responding to the latest news, said, 'why should onshore wind face more planning obstacles than new housing or roads when it's one of the cheapest, greenest and fastest forms of electricity to develop?'"
RenewableUK, a trade association, said wind farms could help invigorate the renewable sector.
James Robottom, head of onshire wind, said: "While industry will work with Government to see how these changes might be able to support a limited number of new developments, this is a missed opportunity to reinvigorate onshore wind in England after eight years of lost progress."
Introducing the policy on onshore wind farms, Michael Gove, Levelling Up, Housing and Communities Secretary, said: "To increase our energy security and develop a cleaner, greener economy, we are introducing new measures to allow local communities to back onshore wind power projects."
Claire Coutinho, Energy Security and Net Zero Secretary, said: "Onshore wind also has a key role to play and these changes will help speed up the delivery of projects where local communities want them."