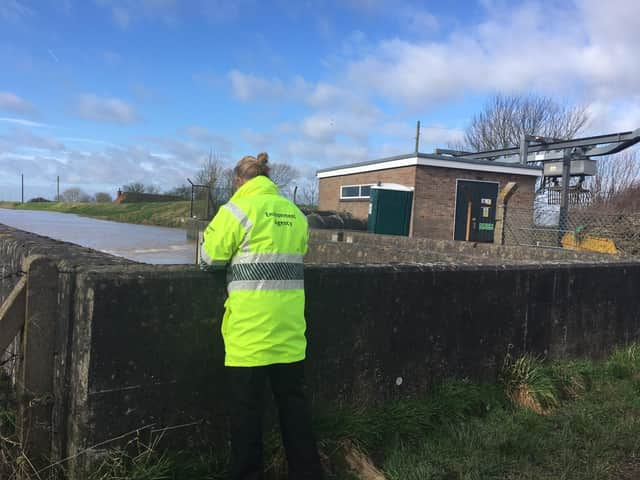 The warnings were downgraded to red flood warning earlier this morning and there is no longer a risk if overtopping, says the Environment Agency.
River levels along the Steeping River and the Wainfleet relief channel have fallen below critical levels.
However, the EA says that although no significant further rainfall is currently forecast, river levels remain above normal and are likely to remain high over the next few days.
The EA states: "Multi-agency meetings are continuing today, Monday 17 February and as required. Remain safe and be aware of your local surroundings, and avoid contact with flood water.
"Do not walk on flood embankments and avoid riverside paths. Our staff are out in the area checking the flood defences and assisting the emergency services and council. We will be closely monitoring the situation and this message will be updated by Monday evening or as the situation changes."
Lincolnshire Police says officers and members of the Local Resilience Forum have been at the Coronation Hall in Wainfleet overnight for any residents wishing to discuss the situation.
A spokesman for the Environment Agency said: " We expect to be able to lift the flood warnings early this afternoon. We have teams out in the area assessing the condition of the banks, and still at Coronation Hall in Wainfleet to give advice and guidance to local people.
"We'll continue monitoring the river flows, conditions and weather forecasts and will issue further alerts and warnings, so we'd remind people to please check their risk and sign up for warnings at www.gov.uk/flood or by calling 0345 988 1188."
An Amber flood alert remains in place on the Steeping River at Partney.
According to the EA the heavy rain brought flooding of low lying land and roads close to the river yesterday (Sunday).. The EA states: "We expect the river to remain high throughout the next few days.
"We are monitoring the situation in the area incident room and will update this message and issue further alerts and warnings as required."