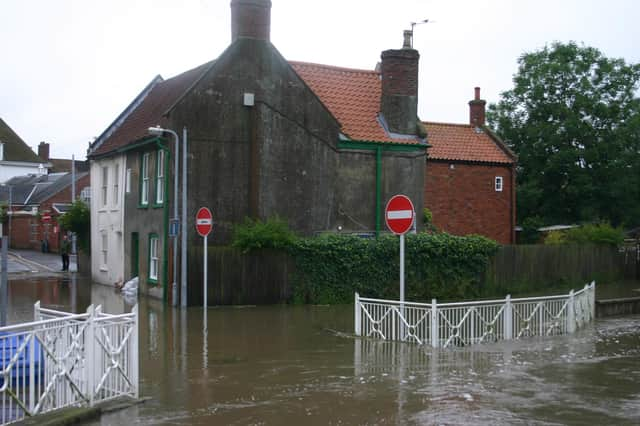 XDI Systems has compiled a model looking at threat faced by regions across the world, and Lincolnshire was ranked 184th out of more than 2,600 regions in terms of projected damage.
As well as coastal and river flooding, extreme weather events can also overwhelm drainage systems.
The risk to properties is set to double between 1990 and 2050 as global warming continues and sea levels continue to rise, according to a study.
Greater London, Wales and the East Riding of Yorkshire were also found to be particularly vulnerable over the coming decades.
Lincolnshire County Council say the study underlines the need for investment in flood defence and other projects.
Councillor Colin Davie, executive member for environment, said: "Lincolnshire has battled with floods throughout history, and I'm not surprised to see it top this 'at risk' list. It's vital then, that the government recognise the unique risks to the Lincolnshire coast and continues to commit to projects that protect our communities.
"As a council, we will continue to take steps with other local and national partners to maintain and improve our defences where we can, and invest in schemes that tackle other flooding risks across the county, including improving drainage and investigating groundwater flooding.
"We also need to encourage communities along the coast to be prepared should the worst happen, by signing up for flood alerts and knowing what to do."
Rosemary Robinson of Lincolnshire Extinction Rebellion said: "We are sadly aware how much of the county is at risk of flooding over the next 80 years.
"Many people seem to be treating the impact of climate change is inevitable. But if we can reduce the temperature rise by even 0.1C, that can still be worth it and potentially prevent us from reaching a tipping point.
"Hopefully the government grasps how severe the situation is and takes imminent action."
The county council has recently been awarded £7m from the Flood and Coastal Innovation Programme to explore how groundwater contributes to flooding.
The study found that the east coast was most at risk, with seven regions being listed in the UK's top ten.
China had most of the top 20 most vulnerable regions worldwide in the study, with Florida, Texas, and California in the USA also found to be at risk.