Litter campaign leader stepping aside as councils tackle surge
There are growing concerns Sleaford has been affected by a national rise in littering in parks and public places, particularly after outdoor gatherings and drinking under lockdown restrictions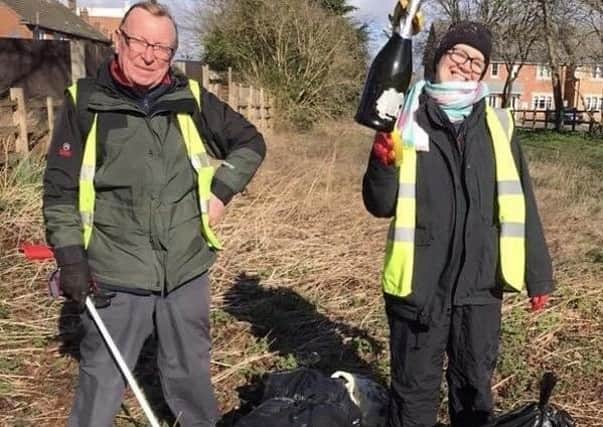 Walkers had recently posted images of bottles and rubbish left behind at Haverholme Lock and in Ruskington.
Clerk to Sleaford Town Council, Lisa Tidy confirmed there has been a rise in littering in public parks and open spaces, but said this was a usual occurrence in warmer weather.
She said it had been more noticeable lately as open spaces 'untouched' during lockdown, but since the easing of measures, gatherings have generated more litter.
"When this occurs over a weekend, it can take longer to clear," she said.
The Town Council ensures all bins in the town centre are emptied daily and others at least twice a week. She urged people to contact the council if a bin is overflowing.
Two years ago Ruskington Parish Council employed an Environment Enforcement Officer and littering considerably reduced, but clerk Kathryn Locke said: "Since lockdown restrictions have eased there have been a couple of occasions when a considerable amount of 'picnic' waste has not been cleared away, requiring council interventions. The council hopes residents will continue to use our beautiful open space areas, whilst acting responsibly."
Mel Stanley set up Facebook group, Sleaford Be Litter Free, in a community effort to clean up the town, but admitted she and her small band of volunteers had run out of steam, saying: "Easing of lockdown has been awful, seeing our beautiful countryside messed up even more.
"I've just closed Sleaford Be Litter Free Facebook page, as after three years, myself and others have picked so much litter, historic and recent in Sleaford, that we feel for now, we have done all we can."
She hoped others would pick up the fight to find solutions.
She still regularly picks litter on George Street play park and others focus on several hot spots around the town such as Southfields and West Banks.
"We've tried gentle persuasion, encouragement, giving out litter grabbers to many Sleaford people, supporting groups and continual litter picking, alone, or with others."
Mel said: "I know we have made a difference because of the amount of bags we have taken to the council depot and recycled in our own bins.
"The Town Council have been hugely supportive of our efforts, getting rid of the full bags, providing us with litter grabbers, bags and gloves to give out to volunteers."
There is still funding from the Co-op Community Champions scheme to pay for professional help to clear rubbish from the Galley Hill bridge bank when Covid 19 restrictions allow.
She still fetl positive, adding: "More and more people are picking litter.
"The cleaner somewhere can be kept the better people look after it and enjoy places more."