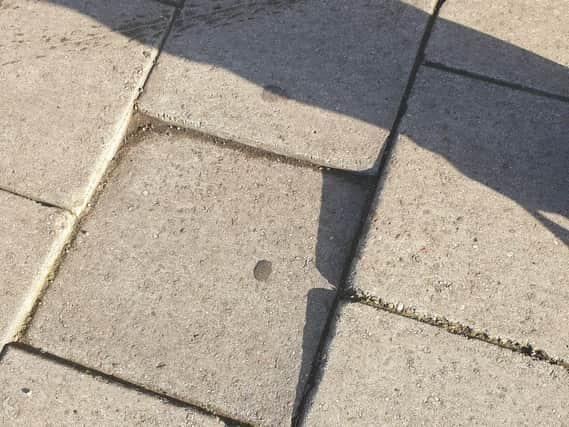 Major works to make roads in Skegness safer for disabled
A year-long campaign to see roads in Skegness made safer for the disabled will see action taken in the New Year.
Published 13th Nov 2020, 12:11 BST
Updated 18th Nov 2020, 17:17 BST
Work will start on Grand Parade on January 25 and it is expected both works will be completed by the end of February.
The campaign was launched in December 2019 by Skegness Town Council after problems facing the disabled around town were highlighted by Coun Richard Cunnington, who has a visual impairment and is registered as blind.
He told the Standard: "Living with a disability I am aware of some of the faults and things which disabled people and some people with low poor mobility can struggle with.
"I also spoke to the county councillors to ask if it would be OK for me to walk the centre of the town with a professional rehab officer from Lincolnshire sensory service who I had been in contact with and to see if the county councillors would take the report to the county council.
"The motion went to town council in December of 2019 and during 2020 I with other town councillors - including Mayor Coun Mark Dannatt and the town clerk Steve Larner - and Martin Borrill from Lincolnshire sensory service went on a walkabout around town to identify the trouble spots.".
As a result a comprehensive report was produced which, with the support of Coun Steve Kirk, was presented to Lincolnshire County Council.
The report stated that urgent action was needed along Richmond Drive, outside Skegness Interchange. Here there was potential for confusion with another crossing nearby. Audible warning needs to be removed to avoid

crossing the road at the wrong time, causing potentially serious injury or death to a pedestrian.

It was also stated there may be potential for improvement to this set of signals along Grand Parade, outside Skegness Ex-Servicemen's Club.
Urgent action was also required on the three-sided refuge island at the confluence of Wainfleet Road/Lumley Road/Roman Bank. The statement said this island had no safety fencing. A person reliant on long cane could get confused by traffic noise, causing them to step-off the kerb at an unsafe point.
The report said this error could result in serious injury or death. Fencing could be installed to avoid such an incident, alternatively, Lambeth Deterrent Paving, though this can have the effect of encouraging children to play on them.
In a statement, Lincolnshire County Council said: "It is proposed to refurbish the junction on Lumley Road Roman Bank and the pedestrian crossing on Grand Parade near Scarbrough Avenue in Skegness. The proposed works are to start early January and finish end of February.
"The permitting team for Skegness have approved the works, while current works are taking place on Roman Bank. Both schemes will increase the current crossing points from 2.8m to 4m where possible and brought back to current the standards. The current signal equipment has reached the end of its operational life and spare parts are becoming obsolete. The new signal equipment will be extra low voltage which will reduce the carbon footprint due to the extra low power consumption. The new equipment installed will also provide a safer working environment due to the lower voltage.
"The works are programmed for 8 weeks during the off peak season and will be undertaken by the Alliance contractors Balfour Beatty and Colas."
Coun Cunnington said he is delighted Lincolnshire County Council has approved the works. "I am pleased to see that the county council are looking to undertake some work in the town of Skegness to improve the safety of our residents and visitors," he commented.
"It has been a year long campaign for me, fully supported by Skegness Town Council
EXTRA CREWS ON THE ROADS TACKLING HIGHWAYS TROUBLES
Lincolnshire County Council highways crews have been working on Lincolnshire's roads since May to identify and rectify even more problems.
The council invested £3.9m in the new crews in April to carry out more maintenance jobs that the council might normally struggle to complete, and allow existing maintenance gangs to focus on serious and dangerous defects – including potholes.
These 13 extra crews work in four different ways:
- Six community gangs work across our electoral divisions, fixing minor faults reported by local councillors or highways officers, or other problems that they come across. This could include cleaning and repairing signage, filling grit bins, renewing road linings and much more.
- Four new civil gangs carry out bigger jobs like footway and kerb repairs, small roadway repairs, or drainage works.
- Two new drainage crews investigate drainage problems using specialist camera equipment, and are able to fix most issues there and then, and pass bigger jobs on to the four civil crews.
- A new five-person hand patching crew, which bridges the gap between the small-scale fixing work done by the other crews, and the large-scale machine patching jobs that are done as part of our annual programme of works.
Since hitting the roads in May, the new crews have completed 776 jobs reported to them by councillors and officers, and fixed a further 5,800 faults that they have discovered themselves on their rounds.
Coun Richard Davies, executive member for highways, said: "With five months still to go before the end of the financial year, these crews have really shown their worth with the work they've already completed.
"These extra community gangs are tackling the smaller and cosmetic problems that mean so much to residents, but that we can often find it difficult to get to as we focus on priority safety jobs.
"Everything from weedy pathways and overhanging bushes, to broken signage, damaged guardrails and small annoying road defects, these new crews are finding and fixing it.
"Our 5,500 mile road network takes some looking after, but we do absolutely everything we can to maintain and improve our roads. Earlier this year, the AA recognised Lincolnshire County Council as one of the country's 'big fixers' when it comes to highways repairs, carrying out more work on our roads than almost every other local authority.
"Having said that, we know our roads aren't perfect. So if you spot a problem, report it to us so we can do something about it. Now that coronavirus restrictions have tightened again across the country, and many of us are staying at home to slow the spread of the virus, our maintenance gangs are still working – safely – to improve Lincolnshire's roads."