Motions calling for public test of Theddlethorpe nuclear dump are withdrawn
Calls to bring forward a public test of support for a proposed nuclear storage dump have been pushed back after legal confusion.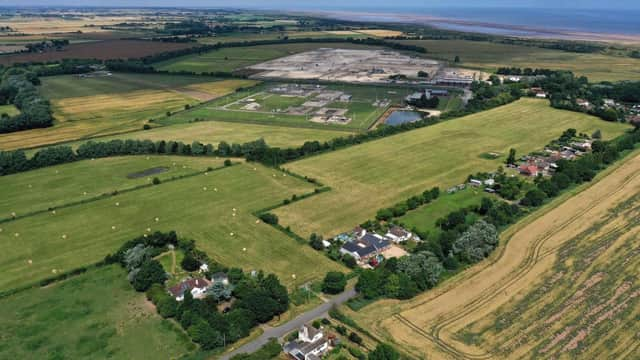 East Lindsey District Council leaders said they weren't avoiding the issue but were having difficulty working out where the local authority legally.
Nuclear Waste Service is currently assessing the suitability of a former gas terminal in Theddlethorpe for a Geological Disposal Facility. Before any work commences, a Test of Public Support is required to ensure community agreement.
Councillors from Theddlethorpe and the Labour Party had previously urged for a vote on potential nuclear waste storage plans, aiming to resolve years of uncertainty.
The motions were withdrawn following legal advice given to the council shortly before Wednesday's Full Council meeting.
ELDC leader Councillor Craig Leyland stated that the legal advice was sought to ensure that any council decisions were correct and could withstand scrutiny.
He stressed the importance of the issue raised by local ward councillors affected by the Nuclear Waste Services proposal.
He expressed sympathy for the residents and their concerns, stating: "Many in this room will be sympathetic to the cause that you have brought to this council."
"Given the importance of the matter raised… it was felt that we should take that legal advice very seriously."
He added: "There's no issue here of this council trying to avoid the issue, because there was a serious attempt to find appropriate legal advice that meant that this council can make an informed decision about how we handle this this evening."
"Even finding someone who could give that advice was a problem – in fact, the legal advice was that there is no legal advice," he said.
"We will have to seek further government guidance about where this sits, so it's a complicated matter."
He said ELDC's monitoring officer would work with those at Lincolnshire County Council to gain some certainty over the government guidance.
Acknowledging the potential for significant costs to the council if it faced an unsuccessful judicial review, Councillor Leyland assured that the council would revisit the matter once they had received the legal advice.
Councillor Jill Makinson-Sanders (Independents) called for a deeper explanation, questioning the late receipt of the legal opinion despite the early submission of the motions.
She expressed concern over the timing of the legal advice and the subsequent withdrawal of the motions.
The withdrawn motions had urged the council to work with Lincolnshire County Council to establish a definitive date for conducting the Test of Public Support within the "search area" as soon as possible before the end of July 2024 and July 2025 respectively.
Local councillors and residents, however, have called for this test to be conducted sooner.
Earlier this month, NWS announced the commencement of studies in Theddlethorpe and three areas of Cumbria to find a suitable location for a GDF, a process expected to take 10 to 15 years.
Simon Hughes, Nuclear Waste Services Director of Siting and Communities, last week stated that a GDF would "only be built where there is a willing community and a suitable site".