Recycling boost as residents know their rubbish
Residents have been praised for their 'huge efforts' for putting the right things in the right bins and recycling more.​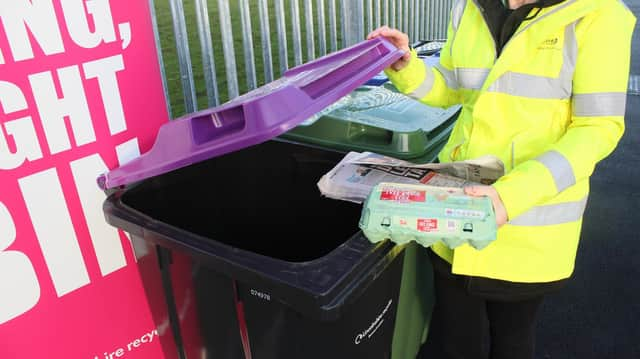 Lincolnshire County Council – working with district councils – began rolling out new purple-lidded bins for paper and cardboard in 2021 and launched its 'Right Thing Right Bin' campaign to help residents recycle
​Four of the county's seven districts now use the paper and cardboard bins, with residents in East Lindsey, West Lindsey, Boston and North Kesteven being such recycling experts that around 90 percent of all the rubbish put in residents' recycling bins at home is exactly the right materials.
​Coun Daniel McNally, executive councillor for waste at Lincolnshire County Council, said: "We've seen such an incredible shift; residents have really got on board with the Right Thing Right Bin mantra and together we've cut contamination drastically.
​*"When there are too many items mixed in with recycling that shouldn't be, it can lead to whole loads of perfectly recyclable materials being rejected and instead sent to our Energy from Waste plant.
"By simply putting the right things in the right bins, you're helping recycle more, reduce our impact on the environment, and save money, which is invested right back into the waste service.
​*"Thank you to everyone for changing the way you do things and getting used to a new way of recycling at home. Now we just have to keep it up."
​Some of the most common things found in recycling bins and bags that shouldn't be are:
​- Soft plastics like films and bags: these should instead be taken to a recycling point at your local supermarket or put in your general waste.
- Electrical items and batteries: these can cause a fire if you just put them in the bin, so take them to a recycling centre or battery recycling point at supermarkets.
- Textiles and clothes: why not donate these to a charity shop or take them to a clothes bank or recycling centre.
- Takeaway boxes: the grease seeps into the fibres and affects the quality of the cardboard. Put these in your general waste instead.
Don't know if you can recycle something at home? The message is 'if in doubt, leave it out' and check it out by visiting www.lincolnshire.gov.uk/waste, or your district council's website.
​The county council's waste team visits local shows, schools and community groups to provide advice about what you can and can't recycle in your bins at home. If you'd like to book a visit get in touch by emailing [email protected].
​The county council continues to work with the remaining three districts on plans to introduce separate paper and cardboard recycling county-wide.