River weed blight forces cancellation of popular annual event in Boston
The blight of duckweed has returned to the River Witham in Boston – causing one local sporting club to cancel its annual event.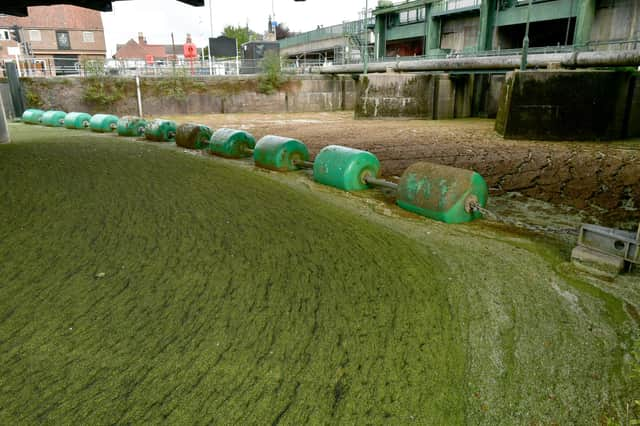 Each summer the duckweed and azolla weed has returned to blanket the surface of the river and its drains – causing disruption for river users and threatening the wildlife.
But the issue has been getting steadily worse over the last few years - exacerbated, some say, by climate change.
The Canal River Trust (CRT) sends out weed boats every year in an attempt to clear some of it, but many residents say not enough it done.
Despite the cooler and wetter conditions in July this year, the green-brown sludge-like weed has still flourished on our waterway, leading to many to cancel their planned activities.
One of those is Boston Rowing Club, who have announced they are having to cancel their annual marathon.
​Posting to their social media accounts, a spokesperson for the club wrote: "I am afraid that due to the continued build up of weed along the River Witham we have made the decision to not run in September. We are looking for a suitable date in 2024. We are really sorry about this. We love the event and would love nothing more than to run on its historic date of 3rd Sunday in September. I hope that all those hoping to compete can enjoy another long distance event."
We spoke to the Canal River Trust about the issue. A spokesman said: "Unfortunately with the climate generally getting warmer and nutrients entering the river, the weed is becoming an issue every year.
"One of the main reasons for this is that the river flow and wind moves surface weed, such as duckweed and azolla, along to that end of the river – so the stretch between Antons Gowt and Boston does tend to be worse affected.
"It's a real shame that Boston Rowing Club has had to take the difficult but understandable decision to move the marathon, and we share their frustrations at what has become a perennial battle with weed on the river.
"The scale of the problem in recent years has been a real challenge with warm weather and nutrient rich water providing ideal growing conditions for fast-growing invasive and non-native invasive weed.
"We currently have a weed boat working on the river five days each week and are flushing as much weed as we can through Boston Grand Sluice in partnership with the Environment Agency, but the reality is that we're battling against the continual growth of weed in the river.
"With little control over the causes of the weed, we continue to work with the Environment Agency, Anglian Water, East Mercia Rivers Trust and other stakeholders across the river catchment to look at ways of tackling the problem but we fully understand, and share, the frustrations of those wanting to enjoy the river."