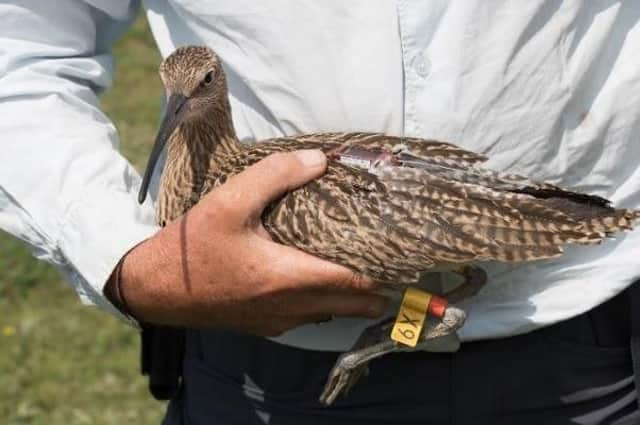 Airfields across the east of England are seen as popular nesting places for curlews, Europe's largest wading bird, who like to lay their eggs in the long grass.
The UK breeding population of curlews is of international importance, with around 30 per cent of the west European population wintering in the UK, but the UK has seen worrying declines in its breeding population, says the RSPB.
Earlier in 2022, curlew eggs were collected from these airfields, including some from RAF Cranwell and RAF Barkston Heath.
The eggs were taken to the Pensthorpe Conservation Trust in Norfolk to be part of their curlew breeding programme. Some of the birds from RAF Cranwell and Barkston Heath were fitted with trackers which the birds wear on their backs, enabling conservationists to see their movements and staff at Pensthorpe thought it would be nice to give the curlews names. The RAF opened this up to the wider community and asked local students to name them.
Staff from the libraries at Sleaford St George's Academy encouraged students to submit their choice of names and similarly the Combined Cadet Force students at the school were asked to enter and a couple of staff. A total of 43 names was submitted and sent to RAF Cranwell who then voted for their favourites. Students enjoyed learning about the curlews, where they were born and where they have ended up.
For the Cranwell Curlews formerly known as 6Y and 6X, Donna Jarvis from the academy said: "We had over 40 entries to name the birds and the two they came up with were Potato - because the eggs look like potatoes – and Nemo."
According to the tracker, Potato travelled to Ireland, while Nemo settled in Snettisham.
Potato was suggested by year 10 student Harriet, a member of the CCF. She explained: "All the bird's beautiful feathers match the various colours of a potato, and this amazing food is one eaten across the world which showed a common thing we all enjoy across the globe. This bird does not resemble fighting, but joy, he's a happy chap, I can tell."
The Barkston birds - formerly 8L and 8E – are now called Beaky McBeakface - suggested by a teacher at St George's Academy, and Billy Basin - named by the children and staff at the play group, RAFA Kidz. Billy was chosen because curlews do not have a beak, they have bills and Basin because the children identified that curlew habitats are near water.
Beaky's current location is near the mouth of the Great Ouse entering the Wash and Billy is currently on the coast near Frieston Shore.
Another name suggested by St George's Academy, Douglas, was given to another curlew from Barkston Heath.
An RAF spokesman said it has been fascinating to see their movements. All four birds were released from Sandringham between 58 and 72 days old.
Students at the academy will continue to track the progress and flights of their curlews over the coming months.