The social media curiosity has even attracted local BBC radio to wonder what, at first glance appears to be a male mallard, but is at least double to size of his fellows paddling about on the River Slea.
Cutting a fairly solitary figure when we videoed him on the water, it would appear he is not all that welcome among the other mallards.
Comments on photographs posted on Sleaford Facebook sites have suggest that he may be a product of cross breeding wild mallards with larger, domesticated duck varieties usually bred for meat and eggs. Unwanted surplus males that hatch out are sometimes released into the wild.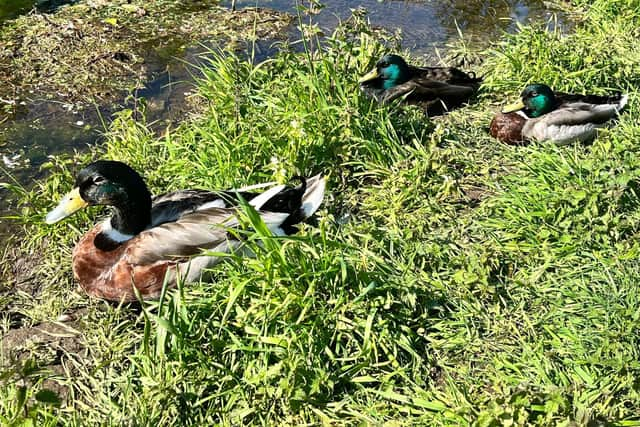 On the other hand, the web-footed wonder could be a Welsh Harlequin or Sheldrake – breeds that look similar but can grow to double the size of a mallard – a mallard weighs up to 3lbs but a Welsh harlequin can reach 5.5lbs.
Chris Andrews of RSPB's Frampton Marsh reserve took at look at the photos and said: "I am no expert when it comes to domestic ducks. But that definitely looks either like a domestic breed, or a wild mallard crossed with a domestic breed. European domestic ducks being descended from mallards originally, and being quite prepared to mate with them.
"I don't know enough to tell the difference between the different domestic breeds."It is said to be illegal to release domestic ducks on public land. In some areas it is considered abandonment and can result in cruelty charges.