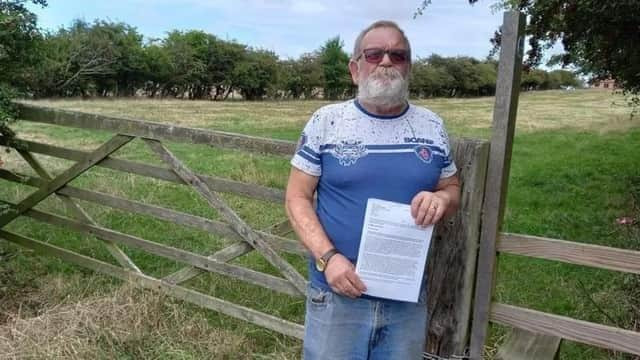 However, residents got a brief time to celebrate in September after plans by Neil Balderston for 65 static caravans were withdrawn. This followed an initial application for 108 static caravans, which was also withdrawn.
Now Mr Balderston has submitted a much scaled down proposal – for six caravans, a holiday cottage and a wildlife pond.
But, according to resident Mr Tom Morrissey, who lives opposite the site, villagers fear this is the start of further applications for an expansion to come.
"We have seen it before – Hill View Lakes started with just a few caravans and now the site covers 30 acres," he said. "I used to have fields behind and in front of my property.
"Now all I see at night when I look out the back during the season is lights from the caravans.
"That's what I'll get from my front window if this goes through.
"We are a small village of just 372 households but we are at risk of being swallowed up by caravans."
Six hundred objections were received by East Lindsey District Council planners for the original version of the plans for Sea Lane, Hogsthorpe – and the scaled-down version got another 800.
According to Mr Morrissey, the new plans have already attracted 600 objections since they were submitted in December last year – and a petition attracted 400 signatures in just two weekends.
Now villagers are planning protests to gain more support – the first one taking place today (Saturday).
"There are no facilities in Hogsthorpe – just a shop and two pubs. It is so lovely in the village with vast views of the rolling fields, and we don't want that to change," Mr Morrissey said.
In a planning statement on the latest proposals, the developer claims he is aiming to create a 'semi-rural, landscape dominated aesthetic' and claims it 'would not spoil the landscape of the area'.
The plan will be decided by ELDC in due course