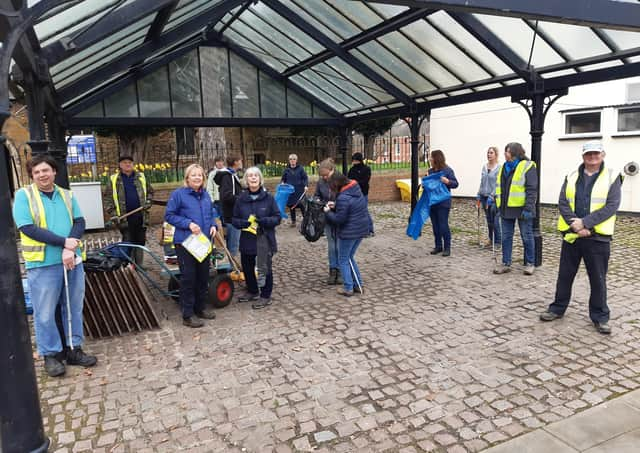 Some of the volunteers who turned out for the socially distanced tidy up EMN-210321-163925001
More than 20 people turned out to do their bit to help - not just within the town itself, but clearing litter from the approach roads.
Coun Steven Bunney, who chairs the Rasen Community Partnership, said: "It was fantastic to see people join in the socially distanced tidy up.
"We are never disappointed with the enthusiasm people have to help make our town somewhere to be proud of.
Coun Neil Taylor digs in at the river site EMN-210321-162731001
"I would like to thank everyone who volunteered their time on Saturday.
"More tidy up events will be organised as we go through the year.
"There are also some exciting plans to help make the town more attractive to residents and to visitors alike."
One of the areas targeted on Saturday was the mill pond, in the first stage of looking at ways to make it more attractive.
Ken Pilley begins the clearance of the bank EMN-210323-062935001
Tim Briddock, Chair of The Mill Residents Group added his thanks to the volunteers who worked on the river bank.
He said: "The river bank looks much better now from every point of view and I would like to commend the efforts of those involved in the operation on Saturday morning.
"Thanks from everyone here at Church Mill and I wish all the volunteers well and good with their worthy contribution to the upkeep and welfare of the community.
"Once again, thank you to the organisers and participants for all their hard work and hope this continues to happen."
Coun Jo Pilley with some of the growth cleared from the bank EMN-210321-162806001
• A single key was found by the mill bridge. If you think it may be yours, call Coun Bunney on 07506 188570.
Andrew White is out working on a weekly basis to help keep the town tidy EMN-210323-062952001
A better view for residents and visitors alike - but there is more work to be done EMN-210323-084334001