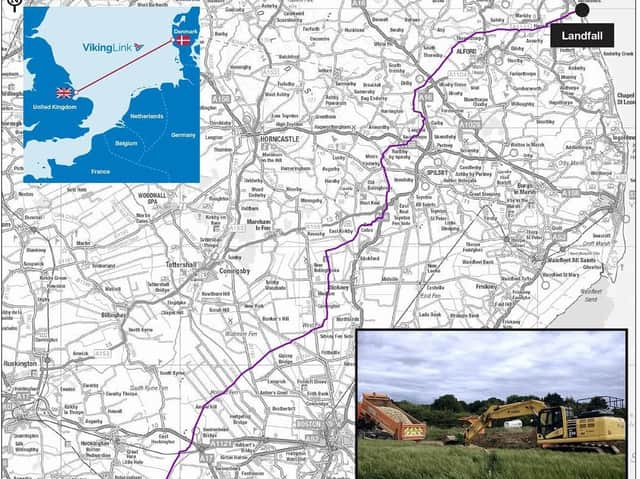 The National Grid's £1.8 billion Viking Link Interconnecter will see 620km of underground and underwater cables stretch from Bicker Fen substation to the substation of Revsing on the west coast of Denmark.
The cable's route will go from Bicker to the north-west of Boston, crossing the A17 close to Swineshead Bridge and the A16 at Ulceby Cross before reaching Sandilands at Sutton on Sea.
Although the route has been designed to avoid larger settlements, it will undoubtedly cause major disruption at points.
This will start with restrictions being put in place to allow construction of the access road to the converter station site at Bicker from the A5, close to Donington, including reducing the speed limit from 60mph to 40mph close to the site and two-way traffic lights at the site entrance for around 10 weeks.
Siemens Energy Ltd is constructing the 2.4km long access road, which will take nine months to complete and will enable access for the major construction equipment and for operational vehicles to access the site once it is completed in 2023.
The Viking Link project is a joint venture between National Grid Ventures, part of National Grid, and the Danish electricity system owner and operator, Energinet.
Once completed, the £1.8 billion cable will have the capacity to be able to supply renewable energy to power one-and-a-half million UK homes.
The scheme has been welcomed by Boston MP Matt Warman, who said: "Reducing carbon emissions is one of the biggest challenges facing our world, and interconnectors play a critical role in the UK's transition to clean energy resources.
"It is great to hear that this project will create employment opportunities to the local community and look to procure products and services from local companies throughout the project."
And Minister for Energy and Clean Growth, Kwasi Kwarteng, said: "This major construction project will put Lincolnshire firmly at the heart of our economic recovery.
"Not only will this scheme create local green-collar jobs across the county, but it will also bolster our energy secu-rity, reduce bills for consumers, and give our home-grown renewable generators a greater chance to export zero-carbon electricity around the world."
The scheme is scheduled to be completed by the end of 2023.
By 2030, 90 per cent of electricity imported via National Grid's interconnectors will be from zero carbon sources.
Construction work on other parts of the site is due to get underway later this year, with contractors Balfour Beaty and Prysmian set to start work on other sections, including the landfall at Sandilands.
Balfour Beaty will be setting up a main project office at East Keal on the A16 near Spilsby.