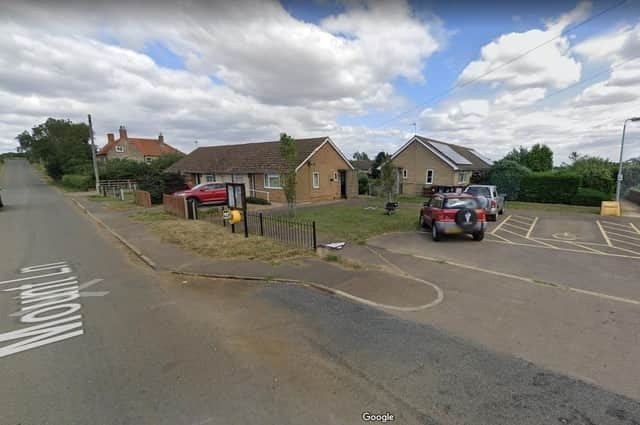 The adult father and son living at the semi-detached property on Mount Lane escaped unharmed but the entire bungalow has been gutted, with parts of the roof collapsing.
The neighbouring property was also temporarily evacuated and four fire crews, who were called out at about 2.30am, spent five hours on the scene to stop it spreading.
Local North Kesteven District Councillor Mervyn Head quickly arrived after receiving a call an hour after the fire broke out, to render any assistance. He contacted the district council's out of hours emergency line.
Coun Head said: "Mr Trimingham and his son got out in only the pyjamas and slippers they were wearing. Mrs Shrimpton next door got her dog and got out.
"I sat with Mr Trimingham, who was being attended to by a first responder, and his son along with his other son and daughter in law who live opposite. Mr Trimingham senior is in his seventies and they were in shock and dazed, but the neighbouring residents were very good and rallied round. I feel so sorry for them, they lost absolutely everything. If Mr Trimingham had not woken up when he heard a bang and found the electric was off. He went to the fuse box and smoke was coming from it."
The fire caused half the street to be without power until 5.30am but other neighbours were there with cups of tea.
"The community spirit was absolutely spot on," said Coun Head. "It is not an everyday occurrence but the council is doing everything it can."
Fire investigators have established the cause as a fault with the mains electrics.
Coun Head managed to get hold of the NKDC housing team and things swung into action.
An NKDC spokesman said: "The occupants are thankfully safe and alternative accommodation has been arranged by our officers.
"We will continue to offer support to the occupants on their needs at this difficult time and are working with the fire and rescue team to understand the cause."
They have made the property secure and were likely to move the two men into a bungalow in the area after Christmas until the damaged home can be rebuilt.
There were concerns initially about the water making the roads dangerous in freezing conditions.