An international aid effort has begun following the 7.8 magnitude quake near Gaziantep in western Turkey in the early hours of Monday morning, and a second 7.5-magnitude quake several hours later, which have killed more than 5,000 people and devastated communities in both Turkey and neighbouring Syria.
Lincolnshire Fire & Rescue announced this afternoon that four firefighters – Crew Manager Colin Calam from Sleaford fire station, Crew Manager Mark Dungworth from Lincoln South fire station, Group Manager Ashley Hildred based at Headquarters in Nettleham, and experienced dog handler, Neil Woodmansey and his search and rescue dog Colin – are heading to Turkey as part of International Search and Rescue efforts.
They will be part of a 76-strong team of search and rescue specialists from the UK who have been requested to assist with rescue efforts, and are due to fly from Birmingham International Airport today.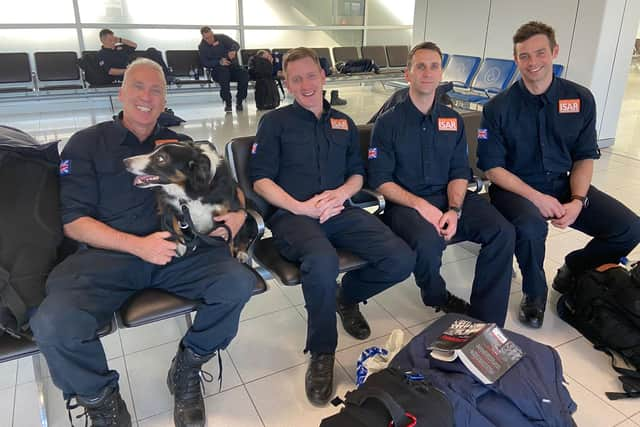 The UK is also sending an Emergency Medical Team to assess the situation on the ground.
Foreign Secretary James Cleverly said: "The UK is sending immediate support to Türkiye including a team of 76 search and rescue specialists, equipment and rescue dogs.
"In Syria, the UK-funded White Helmets have mobilised their resources to respond.
"We stand ready to provide further support as needed."
On top of the devastating shocks, harsh winter weather with snow and icy winds expected are making conditions for rescue efforts even more challenging.
Teams from UNHCR, the UN Refugee Agency, are responding in support of government efforts in Syria and Türkiye distributing emergency supplies, such as high-thermal blankets, mattresses and other lifesaving items, together with its partners, and is working to mobilise additional supplies for the region.
Emma Cherniavsky, chief executive of UNHCR in the UK, said: "Thousands of people's lives were devastated in one night when the first of these terrible earthquakes struck. Many families who had previously fled from conflict in Syria were already struggling to cope with the cold winter, and now are facing this new crisis.
"UNHCR is already working to help people affected by these earthquakes and assessing what more needs to be done. Every donation will help us to deliver essential aid to the people affected."
People can donate and find out more at www.unrefugees.org.uk/earthquake