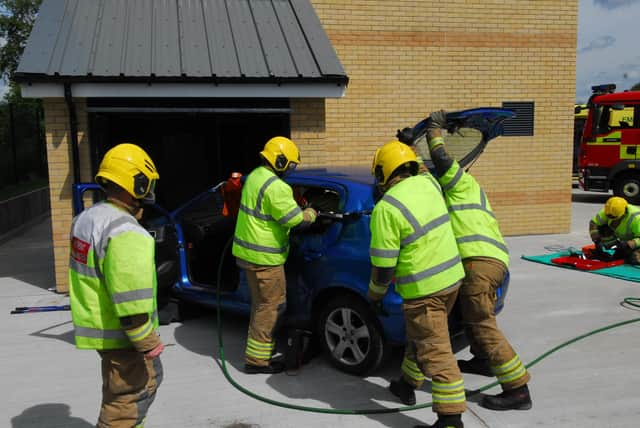 In March and April 2021, officials from His Majesty's Inspectorate of Constabularies and Fire and Rescue Services visited Lincolnshire.
During their inspection or the county fire service, they identified two causes of concern:
They claimed the service had not taken enough action since the last inspection to appropriately resource its protection function and the service had not done enough since the last inspection to improve equality, diversity and inclusion (EDI) in the service.
Lincolnshire Fire and Rescue Service submitted an action plan setting out how it would address the areas of concern and the recommendations against it.
In February and March 2022, inspectors revisited Lincolnshire FRS to review progress against the action plan in relation to the cause of concern and then again in December when the Inspectorate recognised the significant progress the service has made in improving the fire protection function.
Lincolnshire Fire and Rescue Service has approximately 800 firefighters and fire staff across 38 stations and has been busy holding open days and recruitment drives to address and widen diversity and equality within the service.
Chief Fire Officer for Lincolnshire, Mark Baxter, said: "Following a re-inspection in December specifically looking at our fire protection function, we're delighted that HMICFRS has recognised the significant progress we have made, and they no longer deem this area as a cause of concern. We had already been addressing our capacity to inspect commercial premises by training more fire inspectors when we first received the judgement. We also put more detailed action plans to support wider fire protection activities to ensure we support commercial and multi occupancy premises in fire safety matters. The inspection programme has given useful feedback on how we are progressing and achieving our targets.
"The inspection process is welcomed as it provides assurance to our communities and has led to improvements to fire services across the country."
Coun Lindsey Cawrey, executive councillor for fire and rescue at the county council, said: "I want to thank everyone at Lincolnshire Fire and Rescue for their hard work in continuing to provide an effective response to emergencies and for all the preventative work they do within our communities.
"I'm so proud that with the additional resources we have put in and the dedication of teams behind the scenes, the service is meeting the challenges facing fire and rescue services, especially during times of high demand."