Helen is taking the plunge for Helping Dog Paws
While most of her colleagues will be enjoying a lie in and a relaxing weekend Kal Group Sales Director, Helen Steedman, will be going a tandem skydive for charity.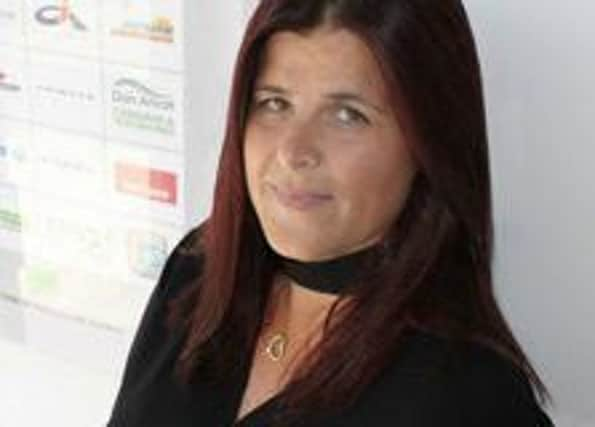 Helen, 41, is taking part in the daredevil skydive to raise money for Helping Dog Paws, of which she is a trustee.
She has set the ambitious target of raising £2,000 for the charity, which as a non-profit organisation, is entirely reliant on donations and grants to fund its work.
This year, to date, it has re-homed 23 dogs with a further 10 in long term foster.
In addition to this it also provides short term care for animals while their owners are in hospital or receiving treatment.
Kal Group, which is based in The Pattern Store in Station Approach, Gainsborough, is owned by Andrew Wood and is a digital design agency.
Helen has worked at Kal Group for just over eight years.
Helen said: "Helping Dog Paws was initially established in 2015 when myself, Pauline Sharpe and Ryan Guntrip and a handful of helpers started the charity.
"In May 2017 we finally got approved as a charity meaning we could raise as much money as we wanted, as previously we could only raise under £5,000 per year.
"Dogs are very much my passion owning five dogs myself, four of these which are rescue dogs through Helping Dog Paws.
"When I am not carrying out my full time job as a Sales Director I am fundraising for the charity, organising events or fostering dogs for the charity.
"What makes us different from other charities is that we do not have kennels so all dogs that come into our care come into family homes until we can find them homes.
"We also work with cancer patients so that when they have to go into hospital the dogs come into loving homes so the owners minds are at rest while they receive vital treatment the fosters also send daily updates and pictures to them to keep them happy.
"The Kal Group have always fully supported the charity, designing the logo, posters, official documentation and helping out with fundraising when ever possible.
"Andy himself is not a dog lover but sees how passionate I am about the charity and fully supports everything I do."
The charity also ensures that any animals that come into its care get the full treatment that they need.
One such dog was Keata, a beautiful akita who came to Helping Dog Paws in October 2016.
She was re-homed but her new family soon noticed a problem with one of her legs.
The vet discovered previously untreated damage to her cruciate ligament, which required specialist treatment costing £2,500.
Helping Dog Paws covered this bill and Keata is now fully recovered and enjoying her new life.
If you would like to sponsor Helen, and help the dogs with charity works with, you can either visit her justgiving page at https://www.justgiving.com/fundraising/helen-steedmanor you can text HSSD47 followed by £ and the amount you'd like to donate to 70070.
You can find out more about the work that the charity does at www.helpingdogpaws.org.
The skydive is taking place at Hibaldstow Skydive Centre on Saturday, September 23, at 3pm.
Helen said: "I'm feeling fine about the skydive at the moment but I do keeping asking myself why when aged 41 andwith an eight-year-old child am I doing it.
"I decided to do the skydive thinking that it's not everyone's choice and most people think I am mad to do it so they are happy to donate because one, it's mad, and two, it's for a great cause."
• Do you have an interesting story to tell?