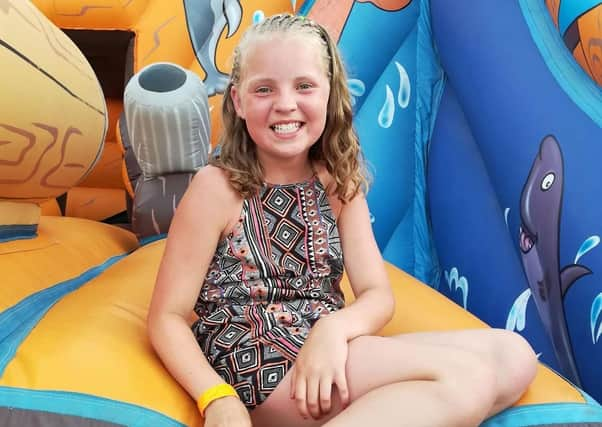 An inquest into the death of Amelia Wood heard that she suffered head injuries in the collision less than 100 metres from her home in Spinney Close.
She died in hospital the following day, March 7, 2018.
Amelia was on a footpath in Manby Middlegate, walking alone to the school bus stop at around 8am.
The vehicle's front nearside wheel became detached, bounced across the road and onto the path, hitting the youngster from behind.
An emotional two-day hearing at Boston's Enterprise Centre heard evidence from members of Amelia's family and the Land Rover driver, Cameron Perkins, who was en route to work with a friend.
The vehicle had a valid MOT certificate issued six months earlier but had 20 safety critical defects at the time of the incident, including bare wires in a footwell which sparked when the brake pedal was depressed.
Simon Kew, a vehicle examiner with Nottinghamshire Police collision investigation unit, agreed with acting senior coroner for Lincolnshire Paul Smith when he suggested: "In essence the vehicle, on that date, was not roadworthy."
The cause of the wheel becoming detached was said to be the absence of a wheel bearing, which started a chain of events causing the failure of a CV joint shaft.
Mr Kew said it was hard to say for certain whether the wheel bearing had never been there, had been removed, or was destroyed.
He told the inquest today (Wednesday): "If there was a wheel bearing there, it was disintegrated to the point it wasn't acting as a wheel bearing."
A fragment of one was found at the scene.
Mr Kew said knocking and grinding sounds caused by friction of malfunctioning parts would have been heard inside the 4x4 Discovery but it could have been mistaken for road noise generated by its outsize tyres or non-standard suspension, both of which were legal modifications.
Mr Perkins, who was 22 at the time, had acquired the vehicle a few weeks before. Evidence was heard that he had put its wheels on selling sites within a week. They did not go and, on February 28, he and friend transported four wheels to a local tyre firm for balancing.
Mr Kew told the inquest the effect of the front nearside wheel bearing being absent should have been apparent to anyone who took the wheel off.
He added that the poor condition of the wheel hub assembly would have occurred over a longer period than a few hours or days.
Michael Pace, acting on behalf of Amelia's mother, Hayley Hodson, and stepfather, said to Mr Kew: "It passed its MOT so can we assume there were no problems with the (wheel) hub at that time?"
The vehicle examiner replied: "It would depend on the quality of the MOT and who did it".
The Land Rover was registered in 1999 and had covered 140,000 miles.
The inquest heard evidence of its history - including a "wheel wobble" - before Mr Perkins got the vehicle in a swap for a Fiesta van.
The previous owner had bought the Discovery a few weeks earlier and used it for an off-road day.
He sold it on because, for him, it was not a day-to-day use vehicle.
Regarding the cause of Amelia's death, Mr Smith recorded a formal conclusion of 'accident'.
• Coroner: 'This was a tragic, needless and entirely avoidable death'
Amelia was "chirpy" and looking forward to school that day, the inquest heard.
The walk to the bus stop was about 200 metres from the home she shared with her mum, stepdad, and two younger brothers in Spinney Close, Manby.
"It was a journey, I'm sure, she had completed uneventfully many times," said Paul Smith, acting senior coroner for Lincolnshire in his conclusion.
Amelia had been diagnosed with acute lymphoid leukaemia in 2009, but had been cured through chemotherapy.
"That past history, I'm sure, only serves to heighten the sense of tragedy of the events," said the coroner on Wednesday.
Some of Amelia's organs were donated after her death and the inquest heard that a street and youth centre are to be named in her memory.
Summarising what he had been told over the two-day hearing, Mr Smith said he found some of the conflicting evidence over events surrounding the Land Rover Discovery and work carried out on it "curious".
A bottle of brake fluid which driver Cameron Perkins had bought three days before the collision was found in the vehicle. He offered no reason for buying it.
Mr Smith said: "The only possible explanation is that he was aware he had a brake problem."
He added: "I did not find Mr Perkins to be a particularly compelling witness in relation to many things he told me."
In recording a conclusion of accident, the coroner said: "I say this was a tragic, needless and entirely avoidable death."
He paid tribute to Amelia's family, acknowledging how "very difficult" it would have been to have to revisit the events and hear the evidence.