Lincolnshire firefighters return from Morocco
Four Lincolnshire firefighters and search and rescue dog, Colin, have now returned from supporting search and rescue efforts after the devastating earthquake in Morocco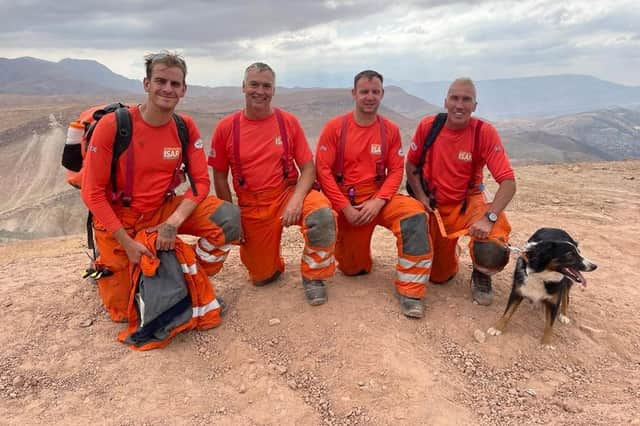 The team headed out just over a day after the magnitude 6.8 earthquake which hit the area on September 8.
During their time with the UK International Search and Rescue (UK ISAR) team, Ben Clarke, Darren Burchnall, Karl Keuneke and dog handler Neil Woodmansey aided search efforts and provided medical and practical assistance – predominantly to remote villages in the Atlas mountains.
UK ISAR deployed a team of 62 personnel from 14 fire and rescue services, and four live scent search dogs on 10 September 10.
The team faced long drives on tracks to reach far-spread villages, often having to re-route around landslides. Aftershocks also hampered efforts to get to remote locations.
According to the team, many villagers they helped, had injured limbs, serious wounds, or were suffering with dehydration, and had had no medical care since the earthquake. Others, including an elderly man, had not been able to get to their homes or travel away from wreckage for help.
Coun Lindsey Cawrey, executive councillor for Lincolnshire Fire and Rescue, said: "I'm very proud that once again our fire and rescue service has been able to assist international communities who have lost so much in a devastating natural disaster. "
Lincolnshire's Chief Fire Officer, Mark Baxter, said: "As part of UK ISAR, our firefighters undergo specialist training and learning to be able to help save lives and support operations in the most challenging of conditions."
- We will bring you more on their experiences on Friday.