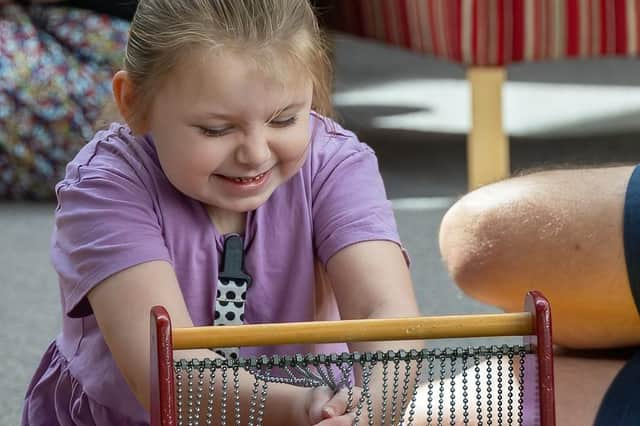 The grant will go towards the new equipment at Andy's Children's Hospice and Hospice at Home service and also fund a specialised trolley, enabling the new equipment to be moved easily into children's bedrooms at the hospice as well as transported to young patient's homes.
Elinor Whitaker, Head of Children's and Wellbeing Services at St Andrew's Hospice, the only dedicated children's hospice for the county, spoke about the support of the sensory room: "Every single child on our caseload benefits from use of our sensory room in some capacity or another. The benefits include; calming, relaxing, development of fine and gross motor skills, sensory development for those with impairments, improvements in cognition and focus, socialisation and stimulation.
"Not only is our sensory room a calm environment to help reassure and manage emotions in some of our Children and Young People, it is also a relaxed atmosphere to conduct certain activities and mechanisms for managing stimulation overload. Our motto at Andy's is about making each day count and creating those positive memories for our patients and families, regardless of how long they have with us.
"The sensory room has been a massive part of our service, particularly for those who present with very complex needs. The sensory room is integral to providing those positive, calm and relaxing memories during a time of uncertainty and fear."
St Andrew's Hospice has been providing hospice care services for adults, children and their families for over 40 years across North East Lincolnshire. In 2004 the charity expanded its services to children from the whole of Lincolnshire, Hull and the East Riding of Yorkshire, with day to day funding coming through charity shops such as the one in Sleaford.
David Scott, Morrisons Foundation Trustee said: "I'm delighted that we've been able to provide this support to such a worthy cause in our community. The beds and sensory equipment we have funded will make a big difference to the vital work of St Andrew's Hospice."
The Morrisons Foundation was set up by Morrisons supermarket in 2015 and awards grants for charity projects which help improve people's lives. Since launching, over £38 million has been donated to hundreds of charities across England, Scotland and Wales.