Lincolnshire firefighters join Morocco earthquake relief
​Lincolnshire firefighters are among the dozens of emergency workers who have flown out to Morocco to help the recovery operation following the devastating earthquake.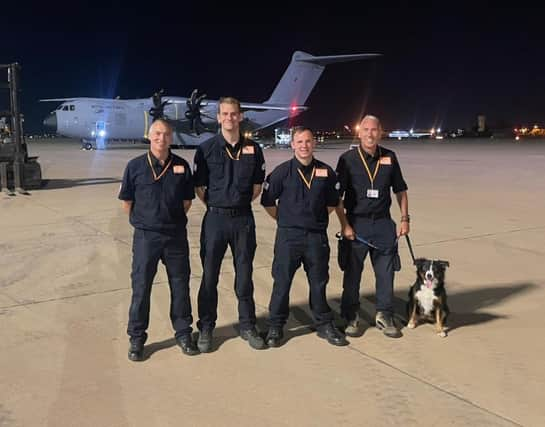 ​A 60-strong contingent from the UK's Fire and Rescue Services (UKISAR) has been deployed to Morocco made up of firefighters and staff from 14 fire and rescue services.
Four firefighters from Lincolnshire – Ben Clarke and specialist dog handler Neil Woodmansey with Colin the rescue dog from Sleaford's fire station, as well as Karl Keuneke from Lincoln South station and Darren Burchnall from Spalding – have arrived in Morocco and will be carrying out search and rescue roles.
Other fire services who have been deployed to Morocco are Cheshire, Essex, Greater Manchester, Hampshire, Kent, Lancashire, Leicestershire, London, Mid and West Wales, Merseyside, Scotland, South Wales and West Midlands.
Colin is one of four specialist search and rescue dogs who have also been deployed.
The UK International Search and Rescue (UKISAR) team has been deployed through the Foreign, Commonwealth & Development Office following a request for support from the Moroccan government.
According to reports, nearly 2,500 people have been killed in Friday's (September 8) earthquake, which occurred near small villages in the High Atlas mountains south of Marrakesh, and is the country's deadliest in 60 years.
A spokesman for Lincolnshire Fire & Rescue said: "Our thoughts are with all those affected by this disaster in Morocco and further afield."
UKISAR is part of the National Fire Chiefs Council's (NFCC) National Resilience Work and is on permanent standby to mobilise and assist when requested by disaster-affected countries.
National Fire Chiefs Council Chair, Mark Hardingham, said: "A team of specially trained firefighters and medics from the UK has been deployed to assist following a request from the Moroccan government to the British government.
"They will be providing specialist technical support where it is needed most to save lives and support local emergency service teams".