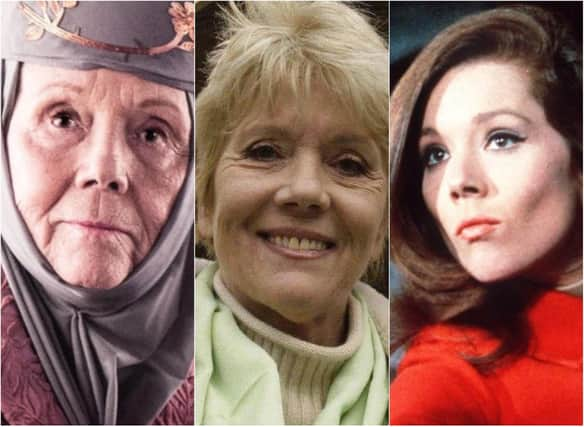 Dame Diana, who died this morning at the age of 82, was best known for her roles as Emma Peel in The Avengers and Olenna Tyrrel in the hit fantasy show, but over the decades, she turned her hand to many roles, winning plaudits across the board for her talents.
Born Enid Diana Elizabeth Rigg on July 20, 1938, she only spent a matter of months in Doncaster.
She was the daughter of Louis Rigg (1903–1968) and Beryl Hilda (1908–1981) and soon after her birth, her father, a railway engineer, was posted to work overseas.
Between the ages of two months and eight years, she lived in Bikaner, where her dad was employed as a railway executive and she spoke Hindi as her second language in those young years.
She was later sent back to England to attend a boarding school, Fulneck Girls School, in a Moravian settlement near Pudsey.
Rigg hated her boarding school, where she felt like a fish out of water, but she believed that Yorkshire played a greater part in shaping her character than India did.
She trained as an actress at the Royal Academy of Dramatic Art from 1955–57, where her classmates included Glenda Jackson and Siân Phillips.
Rigg made her professional stage debut in 1957 in The Caucasian Chalk Circle, and joined the Royal Shakespeare Company in 1959.
But her big break came in the Swinging Sixties when in 1965, she screen-tested for the part of John Steed's female companion in the TV series The Avengers after the departure of Honor Blackman to play Pussy Galore in Goldfinger.
Her performance as the cat-suited Emma Peel brought her international fame and her poster adorned walls and she became a fantasy image for scores of teenage boys.
As well as girl power on the screen, she had plenty off it too.
During the first series, she discovered she was earning less than the cameramen and insisted on more money before making another episode.
But Rigg found the sudden fame as a TV star difficult to cope with. She recalled having to hide in a lavatory to avoid the attention of the crowds. It was partly her resentment at the invasion of her privacy that persuaded her that she would spend only two years with The Avengers.
She also became the only Mrs James Bond to date, starring in Her Majesty's Secret Service opposite George Lazenby – although the marriage was abruptly cut short when her character was shot dead soon after the wedding.
She took on a variety of roles in the 1970s, on stage, film and television, with nothing off her radar.
Whether it was serious drama or high camp, she was prepared to take on anything that came her way.
She took a number of leading roles with the National Theatre Company at the Old Vic and in 1990, she won a Bafta for the role of an obsessive mother in the BBC drama Mother Love. Four years later she won a Tony for best actress in one of her most acclaimed roles, that of Medea.
In the same year, Rigg was created a Dame Commander of the Order of the British Empire.
She appeared in a number of TV costume dramas, winning an Emmy for her role as Mrs Danvers in a Carlton TV production of Daphne du Maurier's Rebecca.
In 2013, she appeared in a Doctor Who episode, The Crimson Horror, which was specially written for her by Mark Gatiss and in her 70s, Dame Diana joined a long list of distinguished British actors who appeared in the HBO fantasy epic Game of Thrones, gaining an Emmy nomination.
And she continued working until shortly before her death, appearing in the new remake of All Creatures Great And Small.
She was married twice, first to Israeli artist Menachem Gueffen, from 1973 to 1976, and then to Archie Stirling. The couple divorced in 1990 after Stirling's affair with actress Joely Richardson. The couple had a daughter, actress Rachael Stirling.
Her first grandchild, a boy named Jack, was born to Stirling and Elbow frontman Guy Garvey in April 2017.
She had been diagnosed with cancer in March this year but fought a private battle against the disease, with her death announced this morning by her agent.