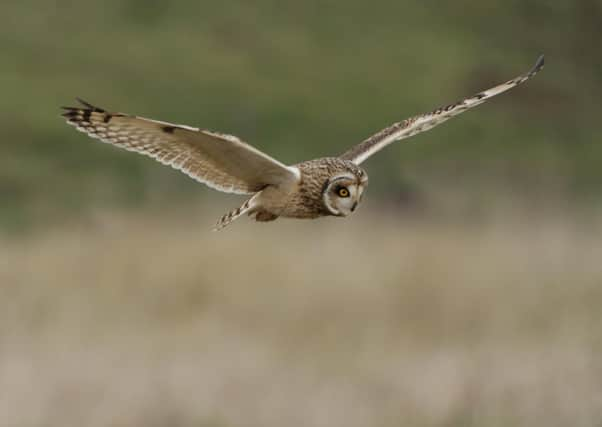 Swallows are gathering for their southward migration down to Africa, and the first of the winter ducks are arriving from the Baltic. And crossing the North Sea with them is the object of this column, the short-eared owl.
'Shorties', as they are familiarly known, are one of our largest UK owls. Slightly less bulky than a tawny owl, they actually have a slightly longer wingspan. Some live in the country all year round – there are anywhere between 600 and 2,200 pairs. Numbers rise and fall quite a lot as their major food, voles, also go through peaks and dips in their numbers.
Most UK breeding short-eared owls nest in Scotland and Northern England, but they will nest as far south as Lincolnshire, or even on the Essex marshes. The 'nest' is not much more than a scrape in the ground, hidden by plants, rather vulnerable to predators, so parent birds are known to decoy foxes away by pretending to be injured and then, when the fox is far enough away, making a miraculous recovery and flying off!
Whilst some short-eared owls do breed in the UK, each year at about this time there is an influx of extra birds. Those living in Russia, Scandinavia and Iceland escape their harsher winter weather to come to the UK.
Coastal saltmarshes, like the RSPB nature reserves of Frampton Marsh or Freiston Shore are great places to find them.
So, what to look for? Well, they are a pale brown, with a disc-shaped face and distinctive staring yellow eyes. You can often see them flying low over the ground or perching up on an old fencepost. And yes, you can see them. Unlike, say, tawny owls which are nocturnal, short-eared owls are quite happy to hunt in the daytime. Early evening is often a good time to see them, particularly if it coincides with a big high tide. The rising water pushes voles up out of cover, and the owls know to take advantage of this.
So, if you fancy seeing such a superb bird, check the tide tables. Then come pay us a visit at Frampton Marsh!
Chris Andrews is visitor experience manager at RSPB Frampton Marsh