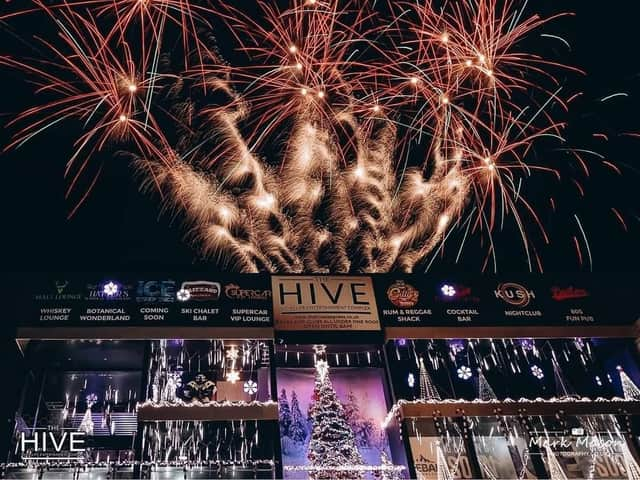 The Hive Fireworks Display takes place on Skegness Seafront on November 5 at 7pm.
Here is a list of some of the events set to go with a bang:
RAF Coningsby Bonfire Night, RAF Coningsby Emergency Car Park, gates open 5.30pm
Tattershall Farm Park Low Bang Fireworks Event, Gates open 4pm
Boston Town Football Club Fireworks, Boston United Community Foundation, 6pm.
St Francis Hill Community Primary School Fireworks Spectacular, Gates open 5.30pm.
Lincoln Rugby Football Club Fireworks Display set to 'child friendly' music, Longsdale Park, Lodge Lane, 6pm
Organ Fireworks featuring music that goes with a bang, St Botolph's Church, Boston, 7pm.
Louth Charity Bonfire and Fireworks Night, Deighton Close Fields, gates open 5.30pm.
Bonfire & Firework Night, Witham St Hughs Village Hall, Caraway Drive, 5pm
40th Market Rasen Fireworks Night, run in association with Market Rasen Town Cricket & Association Football Club, Rase Park,Gallamore Lane Industrial Estate, LN83 , 5pm.
Avro Lancaster NX611 night taxy and Fireworks, Lincolnshire Aviation Heritage Centre, East Kirkby, 10am to 9pm.
West Pinchbeck Village Hall, Firewprks Display, Six House Bank, West Pinchbeck, Spalding 6pm to 11pm.
Grimsby Golf Club Fireworks Extravaganza, Little Coates Road, 6pm.
Sleaford Rugby Club Bonfire and Fireworks Spectacular, David Williams Pavilion, East Road, 4.30pm'
The Rotary Club of Spilsby Fireworks, Spilsby Pavilion and Playing Fields, Ancaster Road, 5pm.
Caistor Lions Club Fireworks Night, South St, Caistor, Market Rasen, 6pm.
Louth Fireworks Display, Louth Livestock Market, London Road, 4.30pm.
The Hive Fireworks Display, Skegness Seafront, 7pm.
Skegness Fireworks Display, Skegness Football Ground, Wainfleet Road, Fireworks. Gates open 6pm