2020: A year of challenge and achievement for air ambulance
The Lincs & Notts Air Ambulance (LNNA) reflects on how its supporters, volunteers, crew and staff have kept its life-saving service fully operational throughout a challenging year.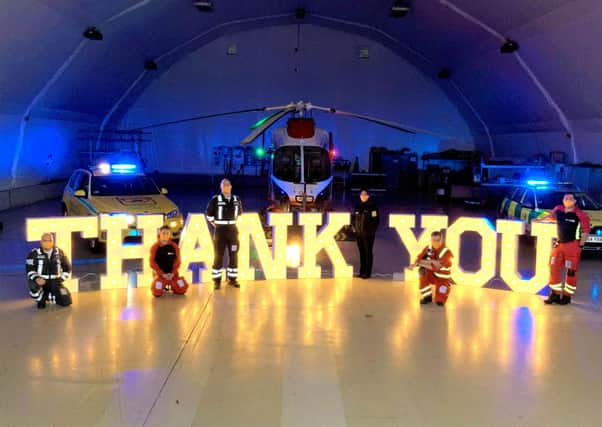 Before the world was hit with Covid-19, the charity was heavily focused on becoming a 24/7 operation, allowing them to deliver life-saving critical care day and night.
When the pandemic hit in March, these plans were temporarily scaled back due to the impact of Covid-19 as crew members were called to support the NHS during the first national lockdown.
As a result of the pandemic, the charity has had to review every aspect of its operation.
Pilots, paramedics and doctors are dealing with the complexity of wearing full personal protective equipment (PPE) in order to keep themselves, and patients safe.
With the help of generous supporters, the crews have remained on the frontline throughout the crisis, delivering critical care to adults and children involved in road traffic collisions, falls, industrial accidents and patients in cardiac arrest.
The crew experienced one of the busiest summers on record, with 348 missions between July and September alone.
Remaining on the frontline meant that LNAA was able to help patients like Joshua, who broke his back in several places after his motorcycle was in a 
collision with a car in June.
Joshua was airlifted from the scene in Skellingthorpe, Lincoln, to Nottingham's Queen's Medical Centre in just 13 minutes and has said that he wouldn't be here today if it wasn't for the air ambulance.
Joshua and his partner Chelsea welcomed their son Lorenzo to the world on July 16, the same day Joshua turned 25-years-old, and just a few days after his release from hospital.
It wasn't until around two weeks later that Joshua was able to pick his baby son up.
Joshua said: "I had to relearn to walk because there's so much metal in my back and because my wrists were broken I couldn't hold him.
"It's been hard, but the experience of the generosity of people and the care I had from the Lincs & Notts Air Ambulance along with those at QMC has been unreal.
"I can't even describe how thankful I am to be honest."
Karen Jobling, Chief Executive Officer at LNAA, said: "Like many charities across the UK, LNAA has been significantly affected by the COVID-19 pandemic.
"Despite the challenges we've faced this year, our crews have continued to provide life-saving care to those patients involved in incidents of the most critical nature, when minutes matter.
"As with everything our teams do, this has only been possible thanks to the incredible communities who support us and have continued to support us throughout 2020.
"Its thanks to generous donations and support that patients like Joshua received the urgent care he needed."
When the pandemic hit, the charity had to halt fundraising events and close all its charity shops.
While the charity's shop portfolio was already under review, LNAA took the difficult decision to permanently close four shops in Ashby, Retford, Spalding and Sutton.
Diane Eyre, Head of Retail and Volunteering, said: "It's not been an easy or quick decision to close these shops.
"They had been under review before the lockdown but the effects of the pandemic on the high street hastened our decision.
"We'd like to thank our wonderful staff and volunteers for their valued contribution, and also our customers for their kind donations and support of these shops.
"While it's been sad to see these shops close, we're currently working on building our presence on online selling platforms such as eBay.
"It's an avenue we haven't fully explored before, we're optimistic that it's an area of real growth – with the opportunity being that we can continue this work in the midst of the pandemic."
With all community fundraising events cancelled for the foreseeable future, the charity welcomed support from generous members of the public who took on huge challenges - from completing the virtual London Marathon, to hosting an online auction, to taking on a sponsored walk or cycling challenge, to motorcyclists riding a 62-mile route in aid of LNAA.
David Martin, Director of Fundraising, said: "2020 has been a year like no other, and it's certainly been one that we'll be happy to say goodbye to.
"Once the year is over, the one thing that will remain with us is the kindness and generosity that our supporters have shown throughout.
"We've been blown away by the support we've received during this time, when we've needed it more than ever.
"A huge thank you to everyone who spent hours fundraising, volunteering and spreading awareness of our service – your donations help us to save lives."
In September, LNAA expanded its service by introducing a Critical Care Car (CCC) in Nottingham, helping to reach more patients in urgent need.
This service has proved invaluable, with doctors and paramedics on board the CCC responding to 102 missions in the first few months of operation.
Doctor Paul Hancock said: "Our Critical Care Car carries the same life-saving equipment found on the helicopter, meaning that patients receive the same level of care as they would have if the helicopter had attended.
"Our clinicians are able to deliver specialist care at the scene, including blood transfusions, advanced pain relief, and if needed, induce sleep to stabilize the most poorly patients.
"Having this CCC in Nottingham means that we've been able to reach patients in those areas where our helicopter is unable to land, helping to improve survival rates."
As the charity looks ahead to 2021, crew and staff will be moving to a brand-new headquarters based off the A15, Sleaford Road, Lincoln.
The project has largely been made possible through a one-off capital grant from government, funding which is only permitted to be spent on the new building.
CEO Karen Jobling said: "The development of a new headquarters has been a long-term ambition of the charity.
"Our new home will bring opportunities for our supporters, partner organisations and others to visit; training facilities to enhance the clinical care we can deliver; and a calming space for former patients to be reunited with the crew.
"But most of all, it will deliver a future-proof home for the vital service the Lincs & Notts Air Ambulance delivers to the people of Lincolnshire and Nottinghamshire."
Karen added: "While this year has been far more difficult than any of us could have imagined, we are now focusing on what the future holds.
"One thing we do know is that we have received an incredible amount of support over the last year.
"A sincere and heartfelt thank you goes to everyone who has supported us; you've kept the helicopter flying, the Critical Care Cars on the roads and our pilots and clinicians in crucial PPE throughout the pandemic.
"No matter what 2021 brings, we're committed to delivering life-saving care when people need us the most.
"This can only happen with your support."
The Lincs & Notts Air Ambulance is an independent charity.
Although the charity works closely with the NHS, LNAA does not receive any government funding for day-to-day operations.
The service relies solely on generous donations from members of the public to remain operational.