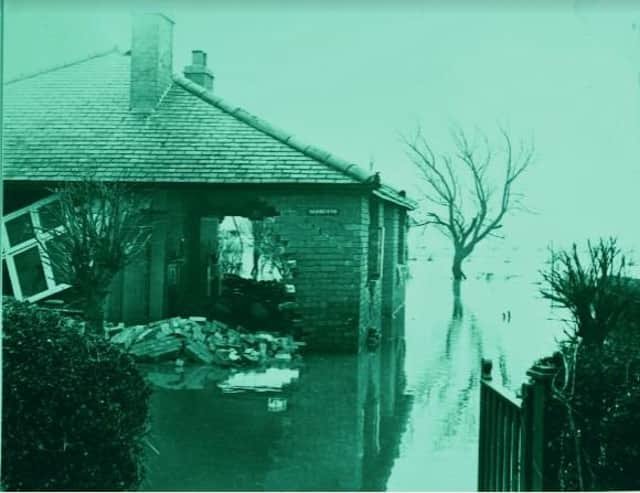 ​PRESS RELEASE *** PRESS RELEASE *** PRESS RELEASE31st January this year marks the 70th anniversary of one of the most
devastating events to strike Lincolnshire when the sea surge of 1953 caused immense damage along our coast and flooded hundreds of acres of farmland. It required the whole population of Mablethorpe and Sutton on Sea to be
evacuated and found shelter in Louth and Alford. The Lincolnshire Film
Archive have been invited to stage a showing of contemporary film of the
flooding and the clear-up operations. This will take place at Nichol Hill
Methodist Church at 7.30 pm on Tuesday 31 January. This is the first of the 'Ants & Nats' lecture programme, and visitors are very welcome, admission £4.
The programme will include two compilations of film from the days
immediately following the floods. The first is of footage shot by Louth &
Grimsby photographer Gordon Lock on behalf of Clugston (the firm which
transported the slag used to re-build the sea defences), and by John Lill who was with the Territorials. The second is of amateur film shot by three
residents of Mablethorpe and Sutton on Sea. A further short item is about
the repairs to sea defences in Sutton and Holbeach Marsh. There then
follows a related but later item Land From the Sea about land reclamation in the 1970s.
Besides these Flood items there will be two Louth Films: Old Fashioned
Winter (by Bertie Hallam & Bert Rawlings, 1938/9) and Louth in the Sixties
(by Louth Photographic Society & Harold Jackson)
Below is a photograph taken by Louth photographer H L Howe who was also working with the Territorials as they carried out emergency operations to
secure the coast against the next high tide. It shows a bungalow at Sutton called Sorrento.
Jean Howard, Programme Secretary
Louth Naturalists', Antiquarian & Literary Society