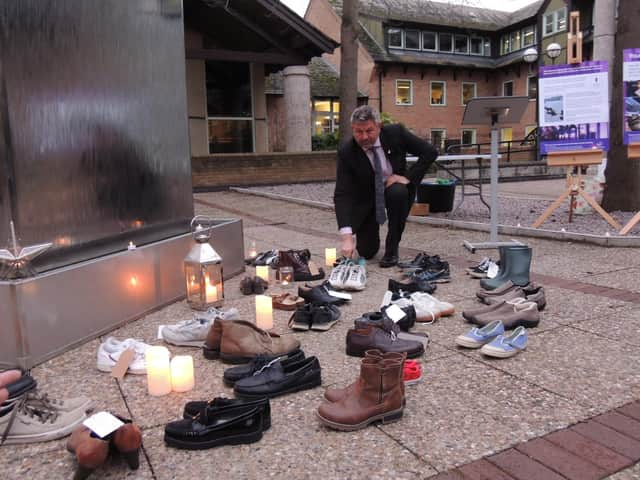 On Thursday, the eve of Holocaust Memorial Day, councillors, staff and visitors gathered in the courtyard of the offices for a short service led by Rev Mark Thomson and vice-chairman Coun Ross Little, to remember and commit themselves to standing up against intolerance and hatred.
Recognising shoes as a symbol and metaphor for the journeys millions of people have been through in seeking sanctuary, safety and self identity, the council encouraged people to leave old or worn-out shoes that tell their own story of a journey as a tribute, while ones in good condition will be donated to the British Red Cross for humanitarian aid or to the William Alvey School's shoe swap scheme for children of disadvantaged or struggling families. More could be donated at The Hub over the weekend.
In total 92 pairs were left - at least five unused pairs were left with moving notes pledging them forwards. About 20 to 25 pairs will go to the school appeal.
Leader of the Council Coun Richard Wright left a pair of trainers from his road to recovery after a back injury.
He said: "Our focus today is on how we, as ordinary people, can pledge ourselves to doing everything we can to ensure that we don't turn a blind eye to intolerance or normalise hatred.
"We commemorate the millions that have died but also importantly celebrate those ordinary people who did what they could."