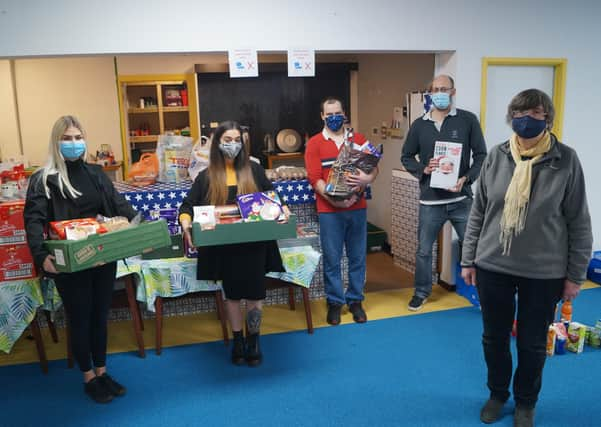 It is a sad fact that as the coronavirus pandemic rolls on families are feeling the pinch, especially with the festive season upon us.
However, the support the town has given to each other has been praised and much appreciated.
Cema Lighting, in Gallamore Lane, has given a boost to the New Life Church bank with a generous donation of £1,250.
Marketing coordinators Chloe Land and Bella Slade went along to make the presentation.
Chloe said: "Every year we like to support a charity at Christmas time and this year it is good to support a good cause on our doorstep and see the support being given to local families."
For Bella food banks are something close to her heart.
She said: "Growing up I saw the struggle some families had, especially when it gets to the festive period and worrying about putting food on the table.
"It is good to be able to help out in this way."
New Life Church food bank co-ordinator Rhona Sheppard said community support for local Food Banks "has been key during 2020".
She continued: "We have been overwhelmed by the generosity of many individuals as well as by local organisations such as Rotary and Lions and local businesses too giving us a big helping hand"
A year ago, New Life ran a food bank with a couple of people; now they have 14 volunteers and run it on a daily basis.
Rhona said: "The referrals keep coming in and the work will continue into 2021.
"Ensuring good local co-ordination through liaison with the Town Partnership group and others has been key too.
"All this in turn can help signpost people to wider areas of support such as debt counselling or social isolation."
Rhona continued: "Just as our stocks and funds were running low, Cema contacted us; they were very much wanting to engage with and support the local community.
"This generous donation was a huge boost, as we plan to send out 50 Christmas food parcels for families and gift bags for isolated individuals."
"We have since also heard we will be receiving a grant of £3,000 from the Lincolnshire Emergency Assistance Scheme.
"Every donation, large or small, makes a big difference and will help sustain the work well into 2021."
New Life Food Bank can be contacted on 01673 849941 or via www.marketrasennew
lifechurch.co.uk