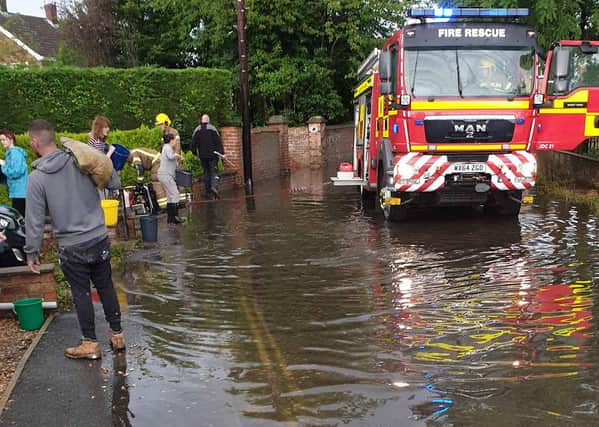 Roads including Waterloo Street, Dear Street, Oxford Street and John Street saw deep waters during the heavy weather on Monday.
Emergency services attended the area at 5pm to help tackle the waters which were reportedly cleared by around 10pm.
Lincolnshire Fire and Rescue said a "small number" of properties were affected.
Crews from Lincoln and Market Rasen pumped out four houses in Waterloo Street, as well as Market Rasen Cricket & Football Club.
They warned further flooding may occur as the weather remained unsettled.
Liberal Democrat Councillor Stephen Bunney, whose West Lindsey District Council ward covers the area, thanked residents for their help in tackling the waters and preventing major damage to several properties.
"The community rallied round very quickly in many areas and was bailing out and making sure water didn't get out of hand.
"Everyone should be grateful and thankful for that."
However, he said he had contacted Lincolnshire County Council and the district authority to raise concerns "drains had not been cleared out and therefore could not cope with the storm water".
"I wouldn't like to say they've been fixed," he said.
"They need to be checked more regularly and more maintenance is required to ensure the drains don't clog up with water."
He said several drains along the streets had needed silt and other debris removing before the water flushed away.
He said several residents he had spoken to had repeatedly raised concerns over the drainage, especially since flooding last November.
Cllr Colin Davie, executive councillor for economy and place at the county council, said: "Our highways teams clean all gullies once a year and when we receive reports of blockages or flooding, we send drainage crews to try and clear the system.
He said the "sheer volume of rain in such a short timeframe" was what led to the flooding.
"Because this is not a common occurrence and summer storms are unpredictable and difficult to prepare for, there may not be anything that any organisation can do to prevent this," he said.
"That said, we are aware that some properties affected were in areas where we already have flood investigations ongoing, and if needed we will begin new flood investigations in other parts of the town if internal flooding has occurred.
"Our flood investigation team may make recommendations as to any action that is needed from any agency, and if needed we will look at ways we can improve our highway surface water system to prevent future flooding."