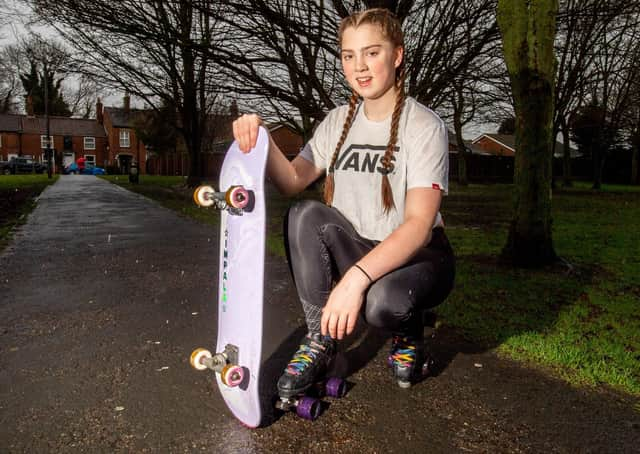 Lyra Waters, a sixth former at Queen Elizabeth's Grammar School, won overwhelming backing for the skate park proposal at an online public meeting last Wednesday.
The meeting was organised by Horncastle Town Council who, as previously reported, have had to scale back their own plans for the Prospect Street site.
A wheeled sporting facility was included in the initial proposals and the council has taken over ownership of the site following an asset transfer from East Lindsey District Council.
However, problems attracting funding forced the town council into a re-think.
The town council is still intending to provide a multipurpose facility featuring seating, an outdoor gym, flower beds, lighting, CCTV and, possibly, a basketball court and football goal.
However, councillors have only allocated £50,000 and recently appealed for community groups to come forward and help develop the site.
After launching her campaign on social media and in the Horncastle News, Lyra attracted hundreds of messages of support.
Now, she is waiting for council backing to finalise a committee with the aim of making sure the project comes to fruition.
Lyra, a junior Great Britain international roller-skater, told the meeting: "What I hope to do is get a group of people together who will form a committee and drive this forward.
"They would focus on the skate park but tie in with the proposals for the rest of the site."
Lyra said her campaign showed there was overwhelming support for a skate park – and not just from teenagers.
She said she had already carried out extensive research into potential grant funding and specialist companies who could build the facility.
Lyra explained the skate park could qualify for a Landfill grant, because the site is within 10 miles of the Kirby on Bain Recycling Centre.
She also said she had spoken to a company who had built a skate park at Bardney and offered a comprehensive service from design to planning permission and construction.
Lyra added: "We have the people to drive this forward and we would like the support of the council.
"I'm confident the group will be sufficient to make something happen."
Lyra was praised for her efforts by councillors and members of the public.
The meeting was chaired by Councillor Matthew Wilkinson who told Laura she had done a brilliant job.
He told her: "What you are proposing is just what we want to hear."
Because the initial £250k project was council-led, it failed to attract any outside funding.
The £50k allocated will be used to support the first two phases of the development – a path and seating/planting area, followed by some outdoor gym equipment.
Coun Wilkinson said the first phase would also include solar lighting and CCTV cameras,
He stressed the second phase (outdoor gym) was still being finalised and there was no definite decision on what equipment would be provided or how much it might cost.
Coun Wilkinson added the council was happy to support Lyra's committee and added the community involvement should boost the chances of funding from outside bodies.
He said the committee would have to wait for formal approval from the town council before any progress could be made.
Town resident John Whelan was one of several people to praise Lyra.
He said: " I want commend Lyra for her enthusiasm.
" It's amazing we have such a young person wanting to lead this and I want to offer my support."
Mr Whelan explained he worked in construction management and his experience and expertise could help the committee.
Kieran (29) said he had been involved in constructing a former skate park on the town's sports ground.
He said: "I've lived in Horncastle all my life. I've been roller-blading since I was 12 or 13.
"I used the last one. I helped build it.
"I'm here to back Lyra and she will have the support of loads of people.
"I'll give any spare time I can and I know loads who would do the same.
"She'll be a brilliant leader."
Mr Whelan – and other members of the public –questioned the wisdom of spending estimated £20k on the path and seating project before embarking on the skate park.
However, Coun Wilkinson pointed out the path would open up the site, leading to the area for the skate park, and any other community facility.
He also pointed out that during a public consultation in 2019, support for a wheeled sporting facility and an outdoor gym was just about equal.
Several people said they had no recollection of the consultation which also involved a questionnaire sent to all the town's schools.
Deputy town clerk Michelle Moss admitted their had been a disappointing response with, for example, students at QEGS 30-40 of 400 forms provided
Councillor Mark Everton said: "This is for Horncastle. We need to get together, build it together and give us something we can all be proud of."
Why a skate park is a must - a view from New Zealand
A skate park facility has attracted support from far and wide – including New Zealand!
Former Horncastle resident Simon Dear told the meeting he thought the proposal was vital.
He said: "I was involved with the first skate park about 20 years ago.
"I grew up in Horncastle. I was a bit of a misfit. Skateboarding was the only thing me and my friends did.
"There was nothing else to do. There was a massive disconnect between the old and young generation.
"I had to travel to Skegness or North Hykeham which took hours on a bus."
Mr Dear revealed he started 'doing drugs' and at one stage was convicted for selling them.
He added: "I felt unsupported and not understood.
"I wouldn't have gone down that road if we'd had a skate park."
Mr Dear revealed he now ran a company helping drug addicts.
He added: "Horncastle needs this (skate park) so badly.
"There needs to be understanding between the older and young people.
"People say it's going to be noisy and vandalism but don't understand stand what it at stake here.
"There's an absolute epidemic of mental health issues and this is an opportunity where you can provide a space for young people. All in one place.
"They won't need to go off vandalising other places. In fact, it's more like to cause a nuisance if you don't have this.
"You need to consult with the professionals because if you don't do this properly, it won't work.
"I've lost 11 friends to drug-related deaths. There is a (drugs) problem in Horncastle but we can do something positive for the younger generations coming through.
"I'll do anything I can to help. Lyra deserves support."
Residents voice fears over development
People living close to the proposed recreation ground project have voiced their concerns about potential vandalism and flooding.
Angela Waters told the meeting that she believed concreting over the current grass field would add to flooding.
She said the area regularly flooded and homes had been damaged by flood water.
She added: " In 2005, it (the site) was classed as unsuitable for a skate park because it is a flood plain. Nothing has changed. You cover it in concrete and you are putting our homes at risk."
She said many residents had questioned whether Prospect Street was the 'right choice.'
Karen Elliott said her 93-year-old mother-in-law lived next to the site and had concerns about the development plans. She said the town council needed to communicate better with residents.
Coun Matthew Wilkinson defended the choice of the site and promised residents would be consulted.
Coun Angela Birchall said she had already visited many households in the vicinity, with a mixed response.