Army veteran volunteers for others
An Army veteran from Sleaford who says becoming a charity volunteer saved his life, is urging members of the Armed Forces community across Lincolnshire to get the support they need from Help for Heroes.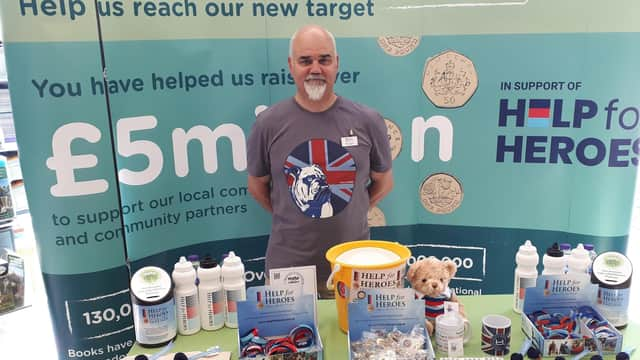 After joining the military at 16, Pete O'Rourke served 24 years with the Royal Ordnance and Royal Logistics Corps and was deployed to countries including Germany, Denmark, Northern Ireland and Norway – where he caught frostbite and his mental health started to decline.
He said: "When I left the Army, I became very insular so one weekend eight years ago my wife dragged me to a summer fete and there was a Help for Heroes stand there and I signed up as a volunteer – if I hadn't, I don't think I would be here today. I think becoming a volunteer has saved my life. It's brilliant, I love it."
He still manages to find time to volunteer and is part an army of unsung heroes celebrated during Volunteers' Week (June 1 to 7).
In 2019 Pete was diagnosed with anxiety and depression but believes giving up his free time has helped his mental and physical health. "It forces me to get out and talk to people and it gives me a fantastic sense of purpose.
"As I am a veteran myself, I know the issues and the struggles that the Armed Forces community faces and all the support that is available," he said.
He will be volunteering on behalf of Help for Heroes at events such as Sleaford 1940s Day on June 3, Scunthorpe Armed Forces Day on June 24 and East Kirkby Airshow on August 5.
Despite suffering from two prolapsed discs and osteoarthritis in both knees, Pete, 58, works full time as a logistics and multi-skilled engineer and is about to pedal 350 miles across Northern France with Help for Heroes' Big Battlefield Bike Ride later this month.
"I can raise awareness at events while fundraising for epic challenges such as the Big Battlefield Bike Ride. I'm not fast but being on my bike is my happy place, nothing can touch me there," he added.
According to the charity, more than 56,000 people in Lincolnshire have served in the military and 530,000 people in the county have a military connection. The charity already helps 501 veterans across the county but is determined to help even more struggling veterans, referring to the situation as the 'Veterans War' and launching an awareness campaign.