Aron: 'I do work hard for the people of this town'
Horncastle's long-serving county councillor Bill Aron has launched a staunch defence of his record amid claims he has failed to represent the interest of the town.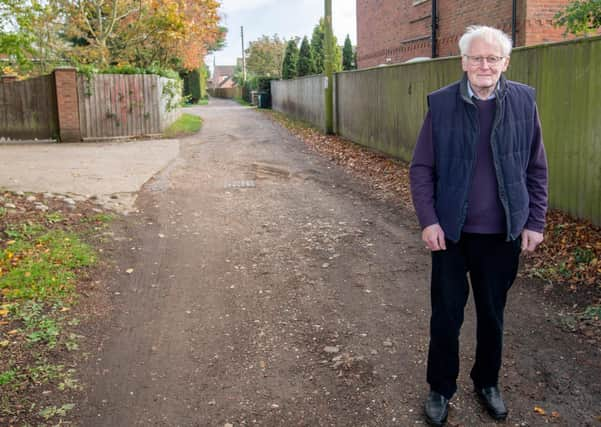 Coun Aron has faced a barrage of criticism at recent town council meetings on a variety of matters, notably highways and the on-going saga of attempts to pedestrianise St Lawrence Street.
Now, Coun Aron has been criticised by a town businesses owner for failing to secure a pedestrian crossing on the A158 in East Street.
And, he has clashed with town councillor Dominic Hinkins over residents' requests to upgrade the road surface in Holt Lane.
Regarding the crossing in East Street, Richard Ingram-Hill wrote to the News saying Coun Aron's response was unacceptable and a 'disgrace'."
Mr Ingram-Hill accuses Coun Aron of ignoring his requests for a crossing for the last two years.
He says the introduction of a school crossing patrol officer at the junction of East Street and Foundry Street has made a dangerous situation worse.
Mr Ingram-Hill goes on to claim East Street is the busiest section of the A158 which carries most of the inland traffic to the coast.
He refutes a lack of funding as a reason for not providing a crossing and points out that by comparison, County Councillor Patricia Bradwell has managed to secure two pedestrian crossings in Wragby.
The letter states: "I made you (Coun Aron) aware of my concerns two years ago and asked for your involvement in the matter, which had been made worse by the introduction of the new School Crossing Patrol (SCP).
"For two years, you have ignored repeated attempts by me to encourage you to take appropriate action and become pro-active in the matter,
"The A158 East St in Horncastle is the busiest section of the highway to the coast and it is crossed by more adults and children living in the largest town on the entire length of the road. "
Mr Ingram-Hill goes on to stress other sections of the A158 have pedestrian crossings.
His letter adds: " Despite all the undeniable facts, you are still stubbornly prepared to ignore the need for a crossing at the Foundry Street junction.
"In my opinion, this is not only unacceptable but also a disgrace.
"There cannot be a better example to illustrate your lack of commitment and your contempt for the safety of the residents of Horncastle who you are elected to serve."
Mr Ingram-Hill also criticised a Lincolnshire Road Safety Partnership officer and adds the 'failure to provide a crossing means a dangerous road safety issues is allowed to continue unchallenged.'
Coun Aron hit back, saying: "When the new school crossing patrol was put in, officers examined the concerns about its location in great detail, including having an external road safety body assess the crossing.
"They all found that the crossing was in the most appropriate and safest place. Mr Ingram-Hill was informed of these findings.
"The School Crossing Patrol has now been in place here for two years without incident.
"I will never ignore a resident's concerns – especially when it comes to road safety – and these concerns were thoroughly investigated."
In regard to Holt Lane, Coun Aron told this month's town council meeting that he had spoken to residents about an upgrade of the road outside their properties but added that they had intimated they 'weren't interested.'
He pointed out only three residents were involved.
Coun Hinkins asked Coun Aron: "Just for clarity - you said you had spoken to residents and they weren't interested!
Coun Aron replied: "That was basic flavour of their response. They felt the work needs doing but wouldn't want to be involved or contribute."
Coun Hinkins replied: "I apologise but I have just spoken to my contact, who is representing the residents, and she said she hadn't heard from Coun Aron. Saying they weren't interested is not something she would say."
Coun Aron said: "You gave me three names - I spoke to two of them and could not get hold of the third.
"The two I had spoken to said the third one wouldn't be interested in funding the work."
Mayor Coun Fiona Martin suggested Coun Aron should try again to speak to the third resident.
Coun Hinkins then said: "The point is they (the residents) are not interested in funding it themselves - they are interested in the county council funding it and bringing the road up to standard which is what we (the town council) supported."
He added it was 'very different' to Coun Aron's claim that residents told him 'they don't want it.'
Speaking after the meeting, Coun Aron said: "It's a well-known fact that our roads and public footpaths need to be of a certain standard before the County Council can consider whether to adopt them.
"The developer or owner has to bear the cost – it would be unreasonable to expect Horncastle Council taxpayers to fund improvements to private land.
"Carrying out work on Holt Lane would set a precedent and then it wouldn't be unreasonable for other landowners to expect the Council to make good paths across their private land.
"I have spoken to a couple of the property owners on Holt Lane, and explained the situation to them and they made it very clear to me then that they would not be interested in funding any of the improvements 
necessary to bring it up to adoptable standard. If the situation has changed then please let me know.
"My track record over the years shows how hard I have worked for the people of Horncastle.
"LCC has over 5,500 miles of road to maintain across the county, with budgets constraints - it can't be expected they start improving and maintaining private land.
"To be helpful, I did suggest if they still want to pursue an improvement scheme they should get some quotes from LCC Highways approved contractors!"
Coun Hinkins told the News: "I sincerely hope that there has been some misunderstanding,
"The request which the town council have repeatedly endorsed is for a 70-yard stretch of Holt Lane, currently gravel and mud, to be adopted by LCC, and brought up to the same standard as other roads in the town, at the expense of the public purse.
"The residents are council tax payers,and deserve the same services as anyone else in Horncastle.
"To an organisation the size of LCC, this job is insignificant, and the cost mere pocket change.
"To the residents of Holt Lane, it is hugely important and a daily frustration.
"It is ridiculous even to suggest that these residents should somehow attempt to fund such an improvement."