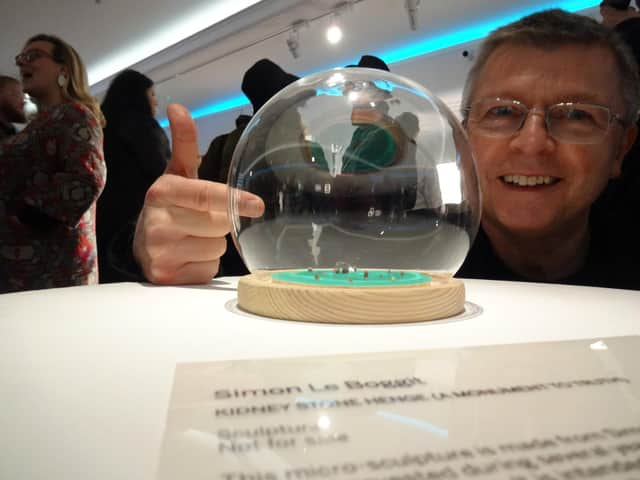 The exhibition, entitled Humanity and featuring the work of Simon Le Boggit, is made up of exhibits by artists who face significant barriers to the art world due to health, disability, social circumstance or isolation.
Eighty artists were given a platform to display their works by the award-winning arts charity Outside In.
Multi-media artist Simon, whose audio visual work readers may have seen projected on a wall near the church at Spilsby Light night, says he has been overwhelmed by the response to his exhibit – Kidney Stone Henge (A Monument To Truth)'.
"I think the response was really good," he said. "Some people were perplexed by what they were looking at but they seemed to enjoy it."
The exhibit is a micro-sculpture of the famous prehistoric monument made from the artist's own kidney stones, collected by urinating through a tea strainer during several years of Ultrasound Shock Wave Lithotripsy sessions.
Simon explains: "I did this because it was a month between treatments and I wanted to see if the treatment was working.
"When you have to lie still during the ultrasound sessions your mind wonders and creates unusual visuals.
"You come up with funny ideas to keep you positive.
"I had numerous sessions and I remember thinking if I got enough stones I could make a mini Stonehenge.
"When I had got through my treatment the stones were still on my mind.
"The exhibit I created intended as a monument to the dedication, diligence and humane understanding shown by the caring staff of the UK's incredible National Health Service, and also a stark reminder of the delicate nature of our normality, health and mortality.
"This was life-changing stuff and in days gone by I might not have survived.
"It was a way of getting through a difficult time of my life."
Humanity opened at Sotheby's New Bond Street last week and will be touring the UK later this year.
Simon hopes more of his work will also be on display in Lincolnshire this year.