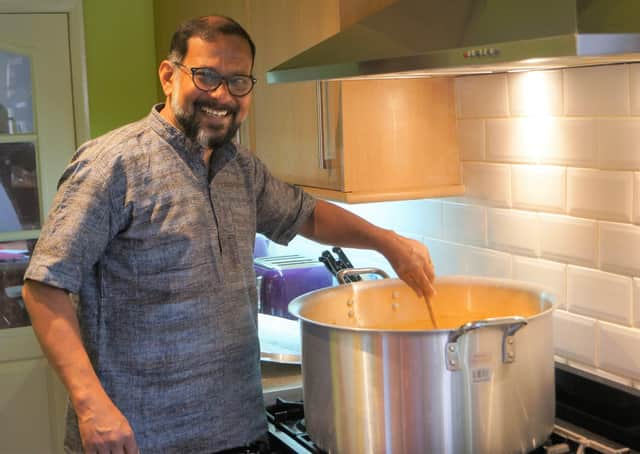 The Indian Curry Pot is the brainchild of Sree and Arya Madhaven and offers their own family recipes, cooked in their own kitchen and served to the public on Saturday evenings.
Both Sree and Arya are performing arts lecturers working at the University of Lincoln, but their biggest passion is cooking and, prior to lockdown due to Covid-19, love to cook large meals for their friends.
Arya said: "We do a whole day of cooking when we cook for friends, it's what we love to do and we enjoy experimenting with new flavours.
The turning point came, she explained, when people would suggest to them that they sell their food and it sparked an idea.
Arya said: "We thought, if we like our food and other people do, how can we share it with others?
"We wanted to give back to the community too, so we decided to provide authentic Indian food cooked in our very own kitchen."
Originally from Kerala in south-west India, Sree said the couple use their own families' recipes and cooking techniques, the only difference being the level of spice in the dishes, which is slightly toned down to cater to the more delicate British palate.
Sree said: "For us, food is a cultural thing and it brings people together.
"Sharing our food is sharing our culture, and when you eat good food, it makes you smile and your face lights up, and that's what we want to see.
"It really makes us happy to see people enjoying our food."
The Indian Curry Pot offers one dish each week, both meat or fish-based and a vegetarian option, which changes on a weekly basis.
Sree and Arya start cooking as early as 6am to get the orders ready for Saturday, and have seen on average around 40 orders per week.
Arya said: "Our philosophy is we'd never serve any food that we wouldn't eat ourselves, so we always make an extra couple of portions each week so we can eat the same ourselves as we want to maintain our principals."
Sree added: "In the Hindu culture, the saying goes that you treat anyone coming into your home like God as they are your guests, and that's a value we emulate."
Orders must be placed before 4pm on Thursdays, and are to be collected from the couple's home between 5pm and 7pm - at an allocated time slot - on Saturdays.
To place an order, or find out more, call the Indian Curry Pot on 07857 978725 or visit the rasencurrypot Facebook page.