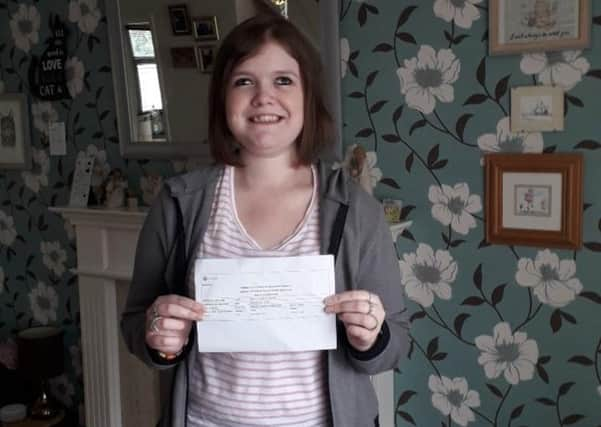 Alice Gresswell, from Sleaford, achieved a grade 7 in Higher Maths at Stamford College. This is in addition to achieving grade 5 in foundation maths last year, despite having to learn braille in order to study and take her exams, complete with embossed diagrams.
Alice, now 21, was diagnosed with osteopetrosis, in which her body generated too much bone in her skull, putting pressure on her optic nerves. She began to lose her sight aged 13, finally going blind two years later at the end of 2014 as she approached her GCSE exams.
Alice said: "I was too poorly to go to school until the end of 2016. I was in a wheelchair and lost my hearing, but that has returned and I can walk again by I still don't have my sight."
She was unsuccessful in applying to get into Lincoln College and so eventually enrolled at Stamford College in 2017.
Since then she has battled to catch up on her lost years of schooling.
She said: "It has been nice to go to college and do my GCSEs, even if not as many as I would have done, but I love maths. I have had to learn braille in order to study and sit exams and learn to use assistive technology and the tactile skills needed to use the embossed diagrams.
"I have one to one sessions, but I have had to work a lot harder than the younger students, learning English braille and the maths signs in braille as well as reading raised graphs. Maths is very visual. I use a talking calculator, a tactile compass and protractor."
Alice said it has helped that she still remembers the maths signs from before she lost her sight.
She now hopes to continue studying to get a good grade in A-level maths at Stamford College, as well as working to get her Engilsh level 2. University is still within her ambitions, although she would also be interested in a job in finance and accountancy, as well as counselling to help others.
"I am taking each day as it comes," Alice says. "I have a completely new perspective on life now. You have to go for whatever opportunities come your way.
"I have been through a life-changing situation and it has taught me so much. I keep positive and try to look forward."