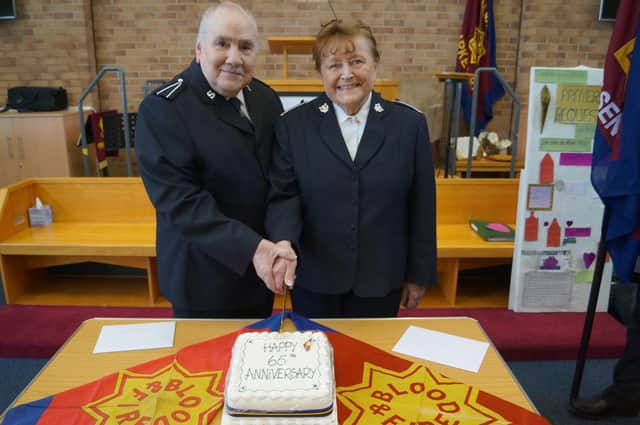 That is the view of Wragby couple John and Pat Barrett who celebrate their Blue Sapphire wedding anniversary today (March 15).
However, festivities to mark their 65 years of marriage began on Sunday at the Market Rasen Salvation Army, where they play an integral part.
John is the band master and pianist, while Pat is a songster and percussionist, including playing a full drum kit.
"Music has always been an important part of our lives," said John.
"When I was bandmaster at Kings Lynn, we played at Sandringham and Prince Philip made a point of saying it sounded lovely from the house."
And it was at Kings Lynn that John and Pat tied the knot 65 years ago at the town's Salvation Army Citadel when they were just 19 – only six weeks after they had first met.
John added: "I actually proposed to her three days after we met."
Their married life has been spent in a number of locations and their work life has been spent together too.
Pat said: "We have always worked together in the management of civic halls.
"John would be the comptroller and I would be in charge of housekeeping.
"We have always been a team; an old-fashioned partnership."
One of the highlights of their careers was working in the City of London, where John spent 14 years as Beadle to the Lord Mayor, through the Worshipful Company of Armourers & Braziers, one of the livery guilds.
Their dedication to their civic work saw both John and Pat made Freemen of the City of London in 1998.
Living and working together, there must be a secret to this long marriage.
John said it was 'compromise and listening to each other'.
Pat said it was 'plenty of laughter'.
She added: "We are naturally happy and have had a happy life – and if we do argue, we always make up.
"You should take each day as a gift and use it to the best of your ability."