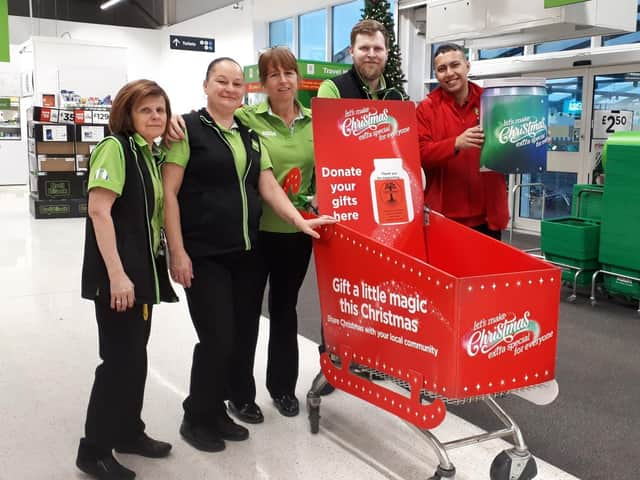 Until December 24th the Lister Way store will have a special trolley set up behind the checkouts to accept donations of such items as cold weather clothing, toiletries and underpants for men, and flasks which will then be passed to the charity's team of workers to distribute to street sleepers.
With support from the Asda Foundation, it will also be providing Local Impact Grants. One will provide an all day drop-in Christmas buffet at Centrepoint Outreach; one will provide a Christmas get together at Crossroads Lunch Club at Boston's Restore Church and a third will help fund a Christmas meal for the elderly at Age UK Lincoln and South Lincolnshire's social dining group to be held at Richmond House.
The store has also allocated funding for a set of tracksuits for Boston United Community Football Club Under 12s to help them during training sessions.
And each of the charities eligible to receive Green Token grants in the run up to Christmas (Age UK Lincoln & South Lincolnshire, Lincs Ark and East Lincolnshire Downs Syndrome Family Support Group) has received a special 'Green Jar' similar to the one used in the retailer's recent TV advert.
This was delivered along with a note advising them that they are now in the running to receive double the amount they originally anticipated - the charity which receives the most Green Tokens from Asda customers will receive £1000, whilst runners up will receive £500 each.
Shoppers in the Lister Way store will also be able to enjoy a little festive cheer too as brass bands and choirs have been booked throughout December and bag packers will be available at busy trading times to help give customers a hand with their purchases at the checkout.
Visitors to the Asda website before December 9 will also be able to nominate a star in their life who makes their Christmas extra special to receive a festive gift box. https://www.asda.com/christmas/nominate-a-star There are four different types of gift boxes to choose from.
The store also acts as a collection point for Boston's Trussell Trust Food Bank to allow members of the public to donate to those who use the service, while its daily surplus food donations through the Fareshare Go scheme to local charities and good causes will also continue.
Boston community champion, Stephen Bromby, said: "We know the most important thing to our customers at Christmas is spending time with family and friends. These are the people who make Christmas special and they're willing to go the extra mile to make sure the occasion is truly magical.
"This spirit of generosity is reflected through our whole range of Christmas activities this year. We have more than doubled donations from Green Tokens and our Asda Foundation grants will see many charities across the borough benefiting from additional funding this festive season.
"With additional donations of stock in response to local requests plus colleagues going into the community to volunteer with groups around the store, Asda Boston is really hoping to make Christmas extra special for many people."