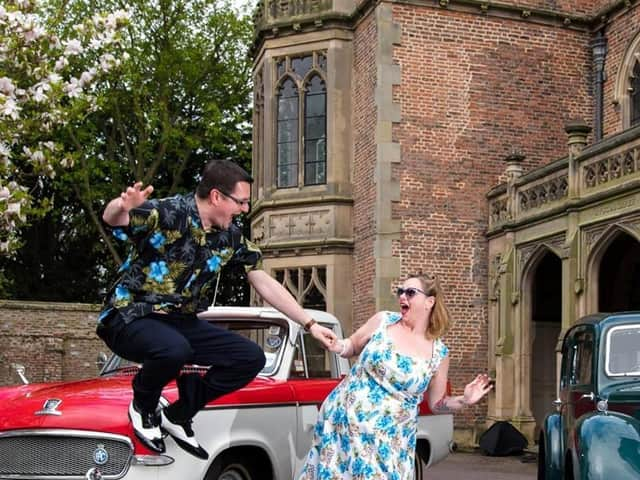 Boston Jive - run by husband and wife team Claire and Neil Seabrook – are offering free seasonal virtual dance demonstrations and mini-tutorials to those in most need of cheering up.
The couple usually take bookings to dance at residential car homes, day centres, and other facilities, but coronavirus has meant they are unable to do anything like that this year.
So they have decided instead to offer to share videos of dance demonstrations and tutorials for anyone who can benefit from them – all free of charge.
Claire said: "Usually at this time of year we are being booked to dance in care homes, day centres, special needs facilities and residential homes to name a few and for obvious reasons, sadly that won't be happening this year.
"We get so much from doing these dance displays and mini tutorials, they fill us with such happiness and warmth and a real sense of what Christmas is truly about - spreading joy to people.
"To see a lady or gentleman very ill with dementia start singing along and wanting to dance with us is priceless. Or someone who is unable to get up and dance being fully included by either watching our display or joining in with a hand jive dance and seeing that smile - words can't explain how happy that makes us feel!
"Knowing how important all the entertainment around Christmas is to so many in care facilities, etc, I had to put my thinking cap on! And, we decided to offer a dance demo/mini tutorial to all these wonderful facilities that we would usually be at around Christmas and wanted to extend that to across the UK."
She said they will provide this on a USB stick completely free of charge to any facilities that want it across the UK.
"We will be filming at the beginning of December (as soon as our Christmas tree is up!) and the video will include a dance demonstration by us, dressed in our Christmassy 50s best, a mini tutorial of some strolls that some residents and the carers can join in with and a hand jive tutorial for all to join in on," said Clair.
"We will be dancing to some Christmas tunes, as well as some of the 1950s favourites that always go down a treat when we do these displays, such as Dancing Shoes by Cliff Richard, Lipstick on Your Collar and some Bill Haley classics too. There will also be a little surprise bonus video that we're working on with our wonderful Boston Jivers!"
She said they had already had a great response from carers and co-ordinators at homes already.
"It really has been overwhelming to find out just how much this is needed right now more than ever. This year has been terribly hard for everyone but at least most of us are getting back to some sort of 'normal' for now; however the care homes and other facilities are still suffering greatly with being unable to have the visitors they would usually have, and no entertainers being able to go in," said Claire.
"We have the ability to do something, no matter how small it may be, to bring a smile, to get people singing along and to keep them entertained and active at one of the hardest times we've ever known and that is exactly what we want to do.
"We think it is vitally important right now to make Christmas memorable for all the right reasons, as there is so much doom and gloom around at the moment and to bring some happiness wherever possible is something we want to do. Hopefully everyone will enjoy it!"
Anyone who wants to have access to the tutorial and demonstration for their home can message Boston Jive on their Facebook page or contact them direct on 07767 149167. The videos will be sent out on USB sticks.