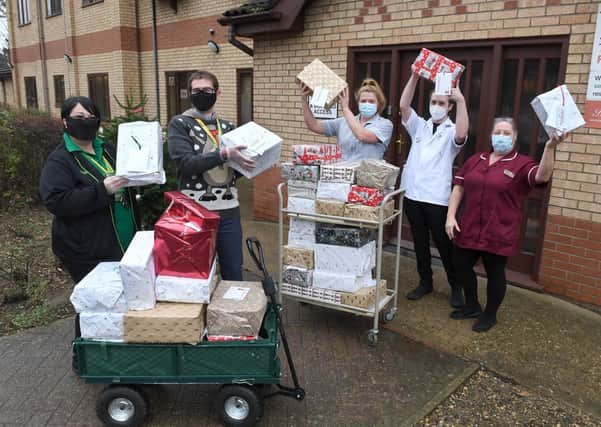 Dunelm, on the Alban Retail Park, held the campaign as part the retailer's national Delivering Joy initiative. This aimed to deliver thousands of gifts across the country to those less fortunate at Christmas.
In all, shoppers in Boston donated 85 shoeboxes of gifts to the cause.
The appeal involved schoolchildren and care home residents writing wishes on tags, small gifts that would make a big difference to them at Christmas. These tags were then placed on a Christmas tree at the front of the shop, where a staff member provided customers with a shoebox, along with a selected tag, to take home, fill with gifts and then take back by December 11.
The Delivering Joy campaign was launched at the beginning of October and continued through the November lockdown via Dunelm's Boston Community Support Facebook group. This involved a member of the team sharing details over private message of the tags that had not been claimed, allowing residents to put together gift packages for when the store reopened on December 2.
Chris Gutteridge, store manager, said: "We were absolutely taken aback by the support and response we had from our customers; it's been really heart-warming to see the local community come together to make sure those less fortunate had something to look forward to this Christmas."
In Boston, the chosen care home was Hunters Creek Care Home, in London Road.
Registered manager Dupe Adewuyi said: "We were highly surprised and speechless to receive such a large amount of exceptional gifts from Dunelm for our residents this Christmas.
"We are immensely grateful for the generosity shown and we cannot thank Dunelm enough for arranging this for us.
"Our residents have been through a hard time because of the coronavirus and being isolated, so this wonderful gift from the community really made them smile."