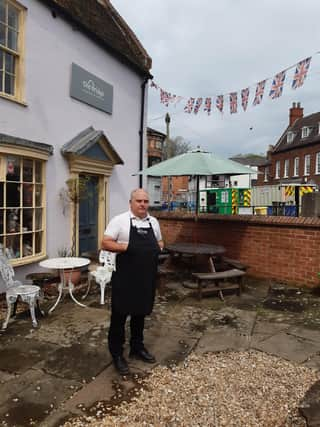 Bridge Street in Horncastle, between High Street and West Street, closed on Tuesday, May 9, and will be shut until Friday June 9 – although this could be extended – while essential waterproofing works are carried out to the structure, which dates back to 1832, and the part of it widened in 1954.
But Barry Jenkinson, owner of the Bridge cafe, has said the road closure is having a huge impact on his business, with a 75 percent decrease in custom.
He said that on a typical day, he will take around £1,000, but on the Tuesday the road was closed, he made just £66, and during a lunchtime rush that same week, served just one cup of tea in three hours.
Barry said: "If this continues for the next few weeks, we won't be able to stay open.
"But there's nothing I can do about it, and the council have said they won't offer compensation as it's considered essential work
"What bothers me the most is that the county council assured us that our businesses would not be affected by the works at all."
Barry, who has run the cafe for ten years, said that after speaking to Lincolnshire County Council to ask them make the road more accessible for pedestrians, there were new signs erected to make it clear to customers that the cafe was indeed open, but it is not enough, he said, as the barriers still make the road look inaccessible.
Horncastle & The Keals county councillor William Gray said that Barry requested these custom signs just for his business, which he received within a day, and that: "the county council had been liaising with businesses on Bridge Street for months prior to the works being started":
"We've been working with the businesses for months," he said, "To start with, the works would have involved closing both footpaths, but after listening to the businesses, it was agreed that only one would close at a time to allow pedestrian access."
Coun Gray also said that on the occasions he has visited Barry's cafe over the past fortnight, that the business had been quite busy.
He added: "All businesses can apply for compensation with proof of loss of earnings."