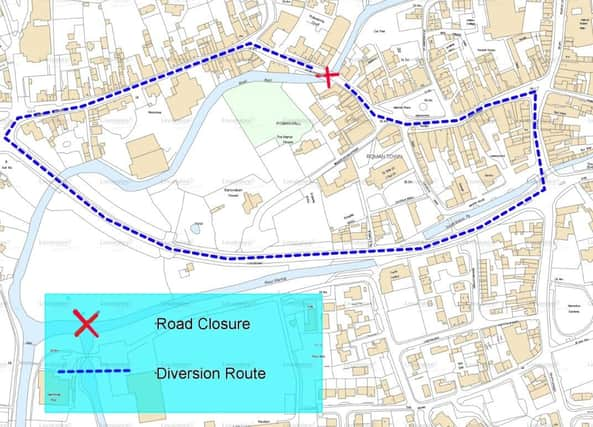 Bridge Street in Horncastle, between High Street and West Street, is going to be closed from Tuesday, May 9 until Friday June 9 – although this could be extended due to unforeseen circumstances – while essential bridge works are carried out.
The diversion route will be via High Street, A153 Bull Ring, A158 Jubilee Way, West Street, and vice versa.
The works will see include maintenance such as joint replacement, repainting of the metalwork and general repairs carried out on the bridge over the River Bain, between High Street and West Street by specialist crews, as well as renewing the waterproofing of the concrete deck.
Coun Richard Davies, executive member for Highways, said: "What we are doing in Horncastle is specialist work to replace the ageing parts of the bridge.
"Because this is a bridge, and normally takes a lot of traffic across it, we simply can't have anything other than a road closure whilst the work is on-going to ensure the safety of the crew and road users.
"We will ensure that pedestrians have a safe route through the works and I would like to thank everyone affected by this programme of work for their understanding and patience whilst we carry out these repairs."
For up-to-date information about this and other roadworks, visit www.lincolnshire.gov.uk/roadworks.