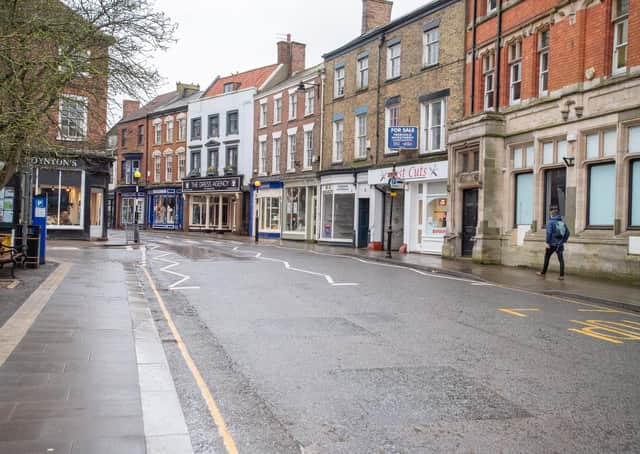 Pubs, restaurants and hotels have been particularly hard hit following Prime Minister Boris Johnson's announcement last Monday that people should avoid public places.
The News spoke to several businesses yesterday and the general response was there has been a huge drop in footfall.
Many businesses are advertising home delivery services.
Some have indicated they are reluctantly having to lay-off staff - or cut the hours of other employees.
All said they were determined to stay open although much depends on any further restrictions announced by the Government.
The virus could not have come at a worse time for Ship Inn landlord Scott McLachlan who only took over the refurbished pub a couple of weeks ago.
He said: "Trade has dropped through the floor and Monday's announcement was totally devastating.
"We've got a few regulars coming in but that's about it.
"We've been honest with our staff but we've had to cut hours.
"There's no point them being here if there's no-one to serve."
He went on to admit the 'uncertainty' over future restrictions was a major worry.
He added: "No-one knows if we'll be forced to close or how long this (coronavirus) will last.
"It could be weeks, it could be months.... "
Mr McLachlan also said it was uncertain what - if any - help would be available in the form of Government funding.
He added: "Small businesses are supposedly be able to claim for up to £10,000 which would be a massive help but apparently, you need tax returns going back three years to be eligible. Obviously, we haven't got those."
Mr MacLachlan went on to stress landlords in the town were speaking regularly and attempting to support each other.
At the nearby Bull Hotel, owner Tim Mills described the situation as 'bleak.'
He's just spent £2,000 renovating the ladies' toilets but admits there are few customers around to use them.
He said: "It was difficult enough before last Monday but it is even worse now.
"We used to get at least two bookings (for rooms) a day...now we're getting two cancellations.
"Will we survive? I honestly don't know. No-one knows what's going to happen."
The Bull enjoys a high rating for its food but Mr Mills admitted he'd stopped opening supplies.
"We're open," he added, 'but there's no-one about.
"What's the point in buying stuff in when all you are going to do is throw it away."
Mark Shakesby, owner/chef at one of Horncastle - and the county's top restaurants - admitted he had 'no idea' about the future.
He told us: "We were fully booked tomorrow night - now we've got two tables left.
"We've reduced the number of tables and move them further apart. People are cancelling all the time. You dread the phone ringing."
Mr Shakesby and his partner Geraldine said they planned to stay open for 'as long as possible' and aim to launch a takeaway service.
He said: "You try to stay positive but it is not easy.
"It was tough enough in the floods a few years ago - and when we had to close for three days because of the Beast from the East,.
"But we knew then we would re-open. Now....who knows?
"This week, I cancelled my meat order - for the first time ever.
"We need more clarity from the Government. I know it is difficult but it's the uncertainty that is really worrying us."
Even in adversity, Mr Shakesby and his staff are trying to help others.
He is taking a hot meal every night to a 94-year-old woman who is isolated in her own home.
Several cafes - including the Old School House - have reduced opening hours and have signs up advertising a takeaway service.
At Myers Bakery, a sign in the window urged people to order bread the day before and included a 'please don't panic buy' plea.
At Couplands, deputy manager Sarah Coleman said they were struggling to meet demand, having sold out of 400 breadcakes before the close of business.
She said: "By two o'clock today, we'd taken £700 which is more than usual for a Wednesday.
"There are definitely fewer people around and a lot of people are staying at home."
At the Horncastle Pizza and Kebab House in the Market Place, owner Ali Icboyun said he had not noticed any significant change to his business..
He said he was still able to get supplies and described business as 'steady.'
He added: "We have less customers coming into the shop but we are still doing OK with deliveries.
"We will stay open until they (the Government) says we have to close.
"How long will that be, I don't know.
"We are trying our best."
It is a similar story in Woodhall Spa.
Early last evening, many restaurants were open but there were very few customers around.
At the award-winning Petwood Hotel, director Emma Brealy said the loss in trade was a 'great concern for all businesses in Woodhall.
She admitted most functions (including weddings) and corporate events had been cancelled and the hotel had lost around £20,000 on the first day of trade following the Prime Minister's announcement.
She said: "I've just read that three million people could lose their jobs.
"We've been hit very hard. Bookings are down
"We're doing our best but we're to reduce the hours of some staff."
There was some hope of improvement at Woodhall's Sainsburys store where a staff member said shelves were not emptying as quickly as they had been.