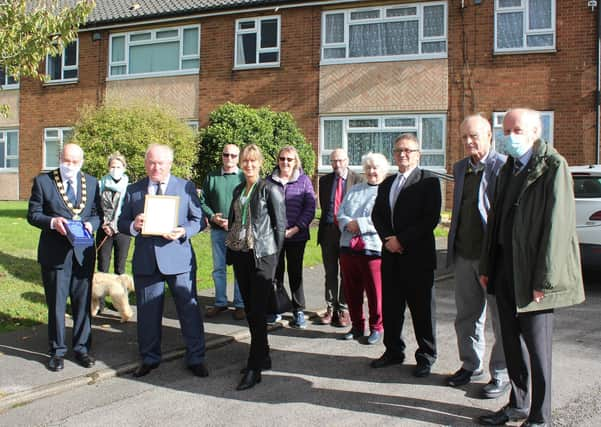 The annual West Lindsey Community Awards took on a different look this year.
Instead of the usual awards evening, council chairman Steve England travelled across the district to deliver the awards personally and ensure a safe celebration of some of West Lindsey's most selfless and talented residents.
Last week, he visited Caistor to present Mike and Pam Cluff with the award for Contribution to Arts and Culture.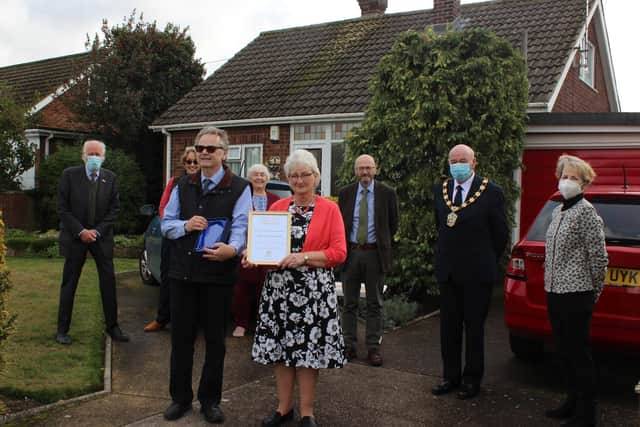 The husband and wife team are founding members of Caistor Amateur Theatrical Society (CATS) and, despite both having full-time jobs, they put in the time and effort to generate top class theatre productions.
Membership of CATS has always been open to everyone aged eight years and over. In 28 years, they've never refused membership to anyone who wanted to join.
They actively seek to involve children in the shows, and for adults, a lack of experience, age, or health issues have never proved an obstacle to their full involvement.
To date, they have produced 28 traditional family pantomimes; 19 plays; 13 musical variety shows and nine murder, mystery and dinner events.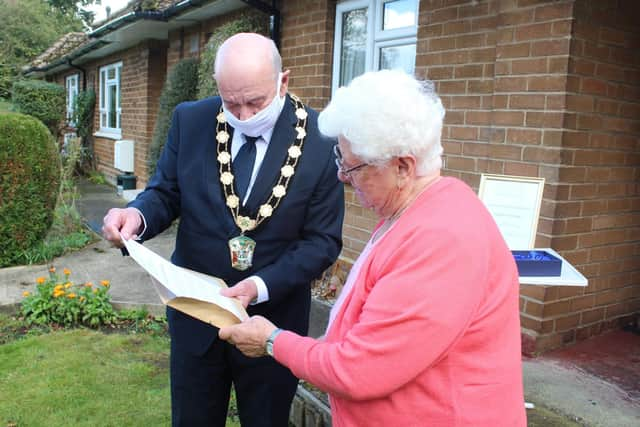 In addition, the young members have presented 12 shows of their own.
With average audiences of 700 for each production, their pantomimes alone have now entertained in excess of 20,000 people.
Mike said: "We are touched to receive this award.
"We are proud to be able to give young people opportunities to perform and develop important life skills."
Another familiar face in Caistor is Neil Birkes, who has received the Contribution to the Environment Award.
After spending some years in a care home in the town, Neil now lives independently and is involved in many volunteering tasks.
He loves being involved in the community and is always positive and enthusiastic when asked to do jobs.
Direct involvement gives him a sense of purpose and direction in his life.
Caistor Town Councillor Mike Galligan said of Neil: "He is generous with his time, courteous in his demeanour and possesses a heart of gold, and is now an integral part of the rich and colourful fabric of the town.
"His sunny disposition shines through."
Everybody needs good neighbours - this year more than ever before - and one Swallow resident has been honoured for her caring attitude.
Marjorie Hales - also known as Madge – has received the Good Neighbour award.
A long-time resident of Swallow, Madge was nominated for excellent all round contribution to the village community
She regularly clears litter and rubbish from the play park, making it look pristine, and when out dog walking, picks up litter from the verges and hedgerows, ensuring everyone benefits from a clean and beautiful environment.
Madge has recently helped form a bubble with her neighbours to support them through the coronavirus pandemic and help them avoid being isolated.
Her support of her neighbours has been ongoing for years.
One neighbour said: "Madge spent hours every day with me for nearly three years, helping care for my husband, who had dementia. I couldn't have done it without her."
Madge also supports the church, freely giving her time and helping decorate it with flowers for festivals and open days, with her efforts very much appreciated by the wider village community.
In all, seven awards were personally delivered across the district over a two-week period.
Councillor Steve England said: "Though of course there is no substitute to an official celebration evening, full of happy faces witnessing their family members be recognised for their fine efforts in their local communities, I must say that visiting this year's award winners has allowed me to do something completely different, and humbling, and that is to visit those award winners in their very own homes and workplaces.
"Getting the opportunity to thank all those who have served their communities - through giving back their time, their efforts, their skills, their knowledge, often for no other reason other than to give back - and doing so by visiting homes, businesses and sports centres where all of these incredible people live and work, I just have to say thank you to them all, and please, keep up the good work!"
Other winners in the West Lindsey Community Awards 2020 were:
Contribution to Sports Award - Mark Smith
Contribution to the Community Award - Richard Kane
Chairman's Citizens Award - The Christmas Day Lunch Committee
Runner-up for the Young Citizen of the Year - Ollie White.
Runner-up for the Good Neighbour Award - Victor Holland.
Victor's award was accepted posthumously by his daughter, Anita Jackson.
Victor was based in Market Rasen but the award was handed out in Gainsborough.